You are here:

Our Highlights of 2019 at Guildford Heritage Services!
Our Highlights of 2019 at Guildford Heritage Services!
In this blog post, staff and volunteers look back on the year and recall their most memorable moment.
Yet another year is nearly over and it was a busy one here at Guildford Heritage Services, especially for Guildford Museum and Guildford House Gallery! With exhibitions, Coffee Time Talks, Family Fun Sessions, outreach events and a collection move, it is easy to forget how much we packed into this year. Here are our favourite moments:
Dajana Topczewski, Engagement Officer
"The Our History Our Identity (OHOI) outreach project and the exhibition are definitely my 2019 fave picks! Getting our collections out on tour around the borough was very special. Not only were we able to bring historic artefacts back home for the day, we also met local residents and we all learnt more about the local area, or in some cases, gathered more information on the objects from our collection. The star object was definitely the mammoth tooth found in Guildford in the 1920s - just imagine mammoths roaming around our borough!
"The other aspect of this project was the exhibition: an exploration of Guildford Borough's rural history and identity curated in collaboration with museums, village halls, societies, local groups and individuals met during the project.
"The aim of the OHOI project was to find out more about the history of Guildford's surrounding areas, their stories, and what makes them unique to local communities and visitors. This project showed us many different ways of working with our collections and more importantly, how we can engage our public in helping us to do so!"
Read more about the project on our Our History Our Identity outreach project page.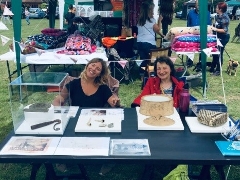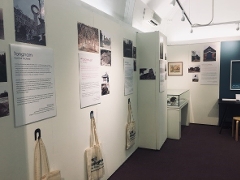 Images, left to right: Museum team's outreach visit to Wood Street Village; OHOI exhibition at Guildford House Gallery Summer 2019 ©Guildford Heritage Services.
Melanie Holliker, Access Officer
"My highlight this year was winning a gold award at Guildford in Bloom for our project with Syrian refugee families. This was a collaborative project working with colleagues in arts development, community wellbeing and family support, as well as nationally known artist Mary Branson and Chelsea Garden award winner Jo Carter.
"The Syrian families were great, getting stuck into the project which involved rejuvenating a flower bed at Guildford House Gallery inspired by the history of the house.
"The families learnt about the history of Guildford House, which was built in 1660, and chose plants from this time period. They were involved in designing, then planting the garden. The project was planned as an opportunity for the families to learn more about the history of Guildford, to spend time together (as they live across the borough) and to practise their English in an informal setting, as well as taking part in a creative and physical activity.
"As a member of staff, I learnt lots about Syrian culture and am really pleased with the finished flowerbed which all visitors to the courtyard and café can enjoy."
Discover more about the project by reading our blog Herbs, flowers, lotions and potions.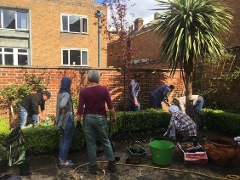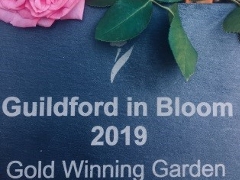 Images, left to right: Syrian refugee families working on the gardening project; Guildford in Bloom plaque 2019 ©Guildford Heritage Services.
Celia Hodges, Education Volunteer
"Participating in a Victorian Schoolroom session, run by Mary the schoolmistress and Deborah the school maid was my highlight of the year. You can read more about the experience on the blog post - A day in the life of the Victorian Schoolroom.
"Having worked at a primary school for four years, I know how rare it is for a class to sit silently for more than an hour! However, our Victorian schoolmistresses had the children completely enraptured and in character for the whole morning. Each child learned how to read and recite their times-tables parrot-fashion, too!
"Experiencing a Victorian art lesson was interesting... the ear-splitting scratching of slate-on-slate forced me to join the pupils downstairs for some needlework! Each child successfully and patiently completed their needlework samplers. I was really impressed with their finished products. Well done to the team at the Victorian Schoolroom!
"The room is only open to the public on a few occasions during the year but if you haven't been yet - do go if you get the chance!"
On 21 December and 18 January, you can visit the Victorian Schoolroom by joining us for one of our Saturday Family Fun sessions taking place there. Find out more on our Family Fun Sessions page.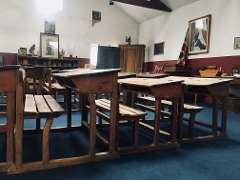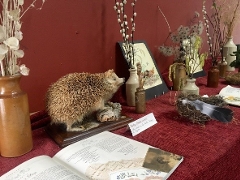 Images, left to right: Victorian Schoolroom desks; part of Victorian educational table ©Guildford Heritage Services.
Gemma Haigh, Curatorial Assistant
"I was lucky enough to be the first member of staff to see our newly acquired portrait of Anna Louisa Halsey, which was purchased for us by the Friends of Guildford House Gallery. Nothing had prepared me for the brightness of the colours of the pastel portrait that was created by John Russell more than 200 years ago. I couldn't believe how perfect it still looked when I laid eyes on it! It is such a beautiful picture, with a great story, and it has travelled hundreds of miles from Canada to get to us in Guildford."
You can read more about this portrait blog post - A new addition to the Guildford Borough art collection.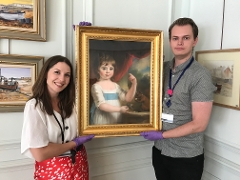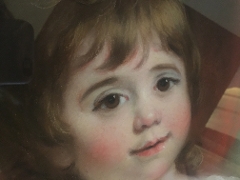 Images, left to right: Councillor James Steel with Gemma, holding the new John Russell painting; close-up image of John Russell's portrait of Anna Louisa Halsey ©Guildford Heritage Services.
Sarah Fairhurst, Collections Manager
"My highlight this year has definitely been starting at Guildford Museum as Collections Manager in October. I'm also looking forward to all the highlights that 2020 will bring. As Collections Manager for Guildford Heritage Services, I'm keen to get stuck in to all the challenges and opportunities that our fantastic collection has to offer.
"Previously, I had the pleasure of working with a collection related to Gertrude Jekyll at the Garden Museum, so am pleased that I'll be working with more of her items at Guildford Museum!"
You can read more about Gertrude Jekyll's sketchbook on our Take a Closer Look section of the website.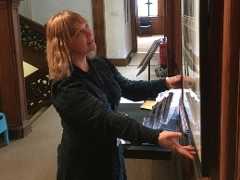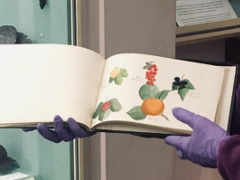 Images, left to right: Sarah at Guildford House Gallery; Gertrude Jekyll sketchbook ©Guildford Heritage Services.