You are here:

Christmas lights switch-on
Christmas lights switch-on
Our fantastic Christmas lights switch-on event took place on Thursday 15 November, sponsored by Experience Guildford and supported by 96.4 Eagle Radio.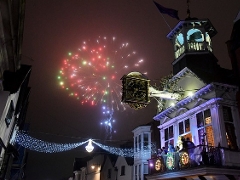 The switching on of our Christmas lights was followed by a grand firework finale, kindly sponsored by White Lion Walk.
The Guildhall balcony show was hosted by Eagle Radio's Peter Gordon, together with local sports stars and the cast of the Yvonne Arnaud pantomime, including actress and singer Michelle Gayle.
The day's events included the following activities:
Unicorns from My Little Unicorn delighted children outside Debenhams and on the High Street during the day.

From 3pm the Experience Guildford Elves had fun around the town snapping ElfieSelfies with shoppers.

Music from the Rock Choir, Babama House Duo, Emma Stevens, and Nefarious Picaroons entertained enthusiastic audiences during the afternoon, and live music took place at Guildford Fringe Buskers' Corner by the Scholar Statue, and included Majella Yorston, Performance Preparation Academy and various local choirs.

Inside the Tunsgate Quarter Shopping Centre, the Guildford Fringe provided some lively music and entertainment for shoppers.

At 5pm, the High Street Mascot Parade set off from White Lion Walk, led by Guildford and Godalming Rock Choir.

Eagle Radio's Peter Gordon and the stars of the Yvonne Arnaud Theatre panto, Cinderella, launched the evening's count down show, before the switching on of the Christmas lights took place at 7pm.

A dazzling fireworks display, sponsored by White Lion Walk Shopping Centre, followed the lights switch-on.

To round the evening off, Latitude (the Academy of Contemporary Music's house band) performed on the Experience Guildford Stage and choirs sang at Guildford Fringe Buskers' Corner, Tunsgate Quarter Shopping Centre, Tunsgate Road, Market Street and on The Rotunda.
Pictured above: Steve Cotney, owner of White Lion Walk, Amanda Masters, Chief Executive, Experience Guildford, Nick Wyschna, Guildford Fringe, Nick White, Gee You, Peter Gordon, and the Mayor of Guildford Cllr Mike Parsons.
Watch the Guildford Christmas lights 2018 video to see how the night was celebrated.
Related pages
Translate
Twitter feed
Follow