You are here:

Interim facilities during redevelopment
Interim facilities during redevelopment
Find out about the interim facilities available at Guildford Crematorium while our redevelopment project takes place.
The Crematorium's redevelopment work will take place between spring 2018 and late 2019. Please check our site map to get updates on the progress of the redevelopment work and access to the Crematorium and Gardens of Remembrance.
Temporary facilities
The crematorium will continue to provide a full and dignified service for the bereaved and their families throughout this redevelopment project. We have an interim chapel at the Crematorium while the works are going ahead. The interim facilities have been designed to a very high standard and include carpeted floors, acoustic panelling and flexible seating.
The interim chapel is well heated, air conditioned and carpeted, and has appropriate and sensitive lighting. It seats in excess of 100 and features new seating and soft furnishings.
The interim chapel also offers all of the facilities that the old chapel had, including:
an organ

full-time chapel attendant

the Wesley music and recording system

hymn and service books

waiting room
Disabled access
The interim chapel has full disabled access.
A new accessible toilet and baby change facility is available in the Remembrance Courtyard.
Pictured above: the interim waiting room.
Timeline of the project
December 2017 - posters and displays were made available to view at the Crematorium, showing plans for the redevelopment work

January 2018 - we published maps showing areas where building work will begin.

May 2018 - work began on building the new car park and interim facilities for memorial services and funerals.

October 2018 - completion of the interim facilities.

Late 2018 - early 2019 - demolition of current Crematorium building.

Middle of February 2019 - completion of new Floral Tribute Room, Book of Remembrance Room and Disabled/Baby change toilet facilities

April 2019 - construction started on Crematorium roof

Early 2020 - new Crematorium to open.
New Floral Tribute Room completed
Our new Floral Tribute Room has been finished and is now open to visitors.
The room is used for people to leave floral tributes in memory of loved ones and has a sink and worktop to prepare flowers, plus a small stock of vases to display floral tributes.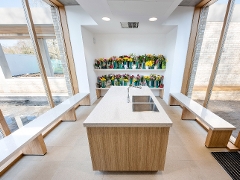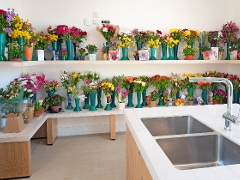 New Book of Remembrance Room completed
Our new Book of Remembrance Room is now open to visitors and offers you a way of remembering your loved ones. We also have an online Book of Remembrance available for you to use.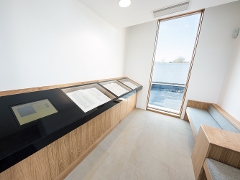 Floor plan of interim chapel
Interim chapel interior
Interim chapel exterior
Plan of new Remembrance Court
Related pages
Translate