You are here:

In conversation with our Lead Councillor for Skills, Arts and Tourism - Cllr Nikki Nelson-Smith
In conversation with our Lead Councillor for Skills, Arts and Tourism - Cllr Nikki Nelson-Smith
Cllr Nikki Nelson-Smith talks more about art, science and collecting! Read more about Nikki's interests and passion for innovative industries and have a glimpse in to her creative mind.
Hi Nikki, tell us a little bit more about you. We already know that you are a Councillor, but we would like to know more.
What is the most exciting thing about your role on the council so far?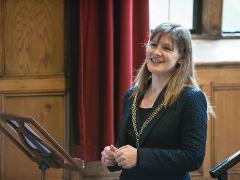 I would say that I am a lover of innovation, which has to encapsulate creativity in both art and science. I brought the innovation agenda to the forefront of the council as Mayor in 2015/16.
I was the first mayor to be asked to trail a theme and mine was 'Inspiring Guildford's Future Innovators', recognising the amazing cutting edge and innovative discoveries that have happened in Guildford and helping to set the scene for future innovation.
This meshed very closely with companies talking about the shortage of well-skilled young people, particularly in STEM (Science, Technology, Engineering and Maths) subjects. We are now embedding this into many different facets of the council, and our new Museum will celebrate the innovation and creativity of residents in Guildford borough through the ages.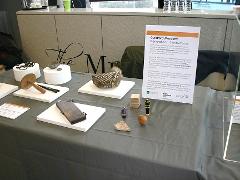 Are you a lover of the arts?
I love creativity, which comes in all kinds of different forms and, whilst I don't think I am that creative myself, I am often awestruck by others' creativity.
I love the theatre and how it transports you to another world. I remember seeing Twelve Angry Men and as the jury's opinion turned during the deliberations, the table around which they were centred turned too. So simple, yet so effective.
I am amazed by how digital games have developed and the astonishing effects they now achieve. I particularly admire those with the imagination and skill to develop the games. I am very excited by, the use of visual reality in the medical sphere. I would love Guildford to become a recognised Smart City, using sensors to help support better transport links and town centre management and care for those who are lonely or less able.
All these kinds of inventions, although science based, need artistic thinking to be brought into being. This kind of art really excites me.
We are very curious to know if you have a favourite art piece or designer?
I don't really have a favourite. I appreciate art that 'speaks' to me. I love fluidity and faces with character, beautiful landscapes and funny caricatures. I enjoy paintings, but I am particularly drawn to sculpture and photographs. I like it when architects and garden designers play with perspective.
I also take real pleasure in music, and I revel in buildings that sing - an old ruined chapel in France where the acoustics benefit from amazing resonance or a majestic cathedral where the organ music seems to seep out of the stone.
Are you a collector, if so what are you collecting?
When I was younger, I travelled a great deal and I would often bring home one art object that might remind me of that culture.
Mostly they were pictures or sculptures, but I also brought home less usual objects such as a large batik picture and a book of poems. Naturally, I took a lot of photographs, which I carefully put in albums, and some of which are blown up poster size and now hang in my home. I do love photographs! !
What do you enjoy most as Guildford Borough Council's Lead Councillor for Arts and Culture?
It is great to be able to attend so many cultural activities in the borough, but the most important project at the moment is the feasibility study to transform our museum.
I know we should not get carried away with our own vision of what might happen, but the future will see the creation of a really vibrant museum space, which local people feel a part of; a space that will celebrate Guildford's innovative and creative past, present and future and revel in the activities of some of its many ground breaking inhabitants.
I also look forward to Guildford making more of its connection to Charles Dodgson who, under his pseudonym of Lewis Carroll, was the author of Alice in Wonderland. He rented a house locally for many years for his many sisters and is buried here having caught pneumonia and died while visiting from Oxford.
There are so many good creative projects out there with community engagement. Do you have that 'number one project' that you have worked on or seen, that you found exciting and refreshing? What is it?
The community engagement that occurred through the 'Your Stories, Your Museum' project was a step in a new direction to the kind of community engagement we have done before.
I am looking forward to hearing more about the new 'Our History, Our Identity' project that aims to find stories about the various local areas within our borough; so keep us all posted.
Guildford Heritage Services care for a wide range of historic objects, enabling borough residents and visitors to value, find connection with and be inspired by them. What do you think of this?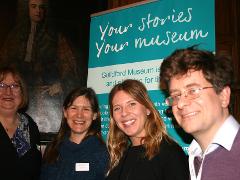 I think helping residents find a connection is the added value that Heritage Services can bring.

I have always thought that history is easier to relate to when put in the context of your ancestors and their lives, so it should be taught backwards with kids asking their parents about their younger days and then asking grandparents so that the connection is already there to be built upon.
That way the bigger events are better understood. Accessibility to the collection is key, both through rotating what is shown and the ways in which objects and concepts are presented. People are all individuals and will have differing preferences so variety then becomes important. I will leave that to you experts in the museum!
Finally, would you like to share anything that our readers should look forward to...?
Certainly 'Alice Day' on 5 August! This is always a wonderful event in the Castle Grounds. Then in September there's the Castle Poetry Project, a temporary art installation in the Castle Grounds and in October the Guildford Book Festival with over 50 well known authors coming to speak in the town.
A very special event will be Guildford Shakespeare Company's production of Alice in Wonderland starting in St Mary's Church, with the tea party in Guildford Museum and the court room scene in the Castle Keep... there are so many wonderful things to book in your diary over the next few months!