You are here:

Keeping track of everything!
Keeping track of everything!
Find out how it all works from our curatorial assistant...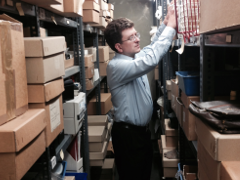 Welcome to our museum blog. I am Andrew, Curatorial Assistant for Heritage Services. My job is to care for the collections held across the heritage sites. I document artefacts and deal with newly received objects. With over 100,000 items, keeping track of everything is a complex but fun task! In this blog I will introduce you to the collections - how they were developed, what we collect and how we make collecting decisions.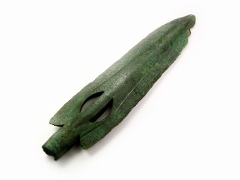 The story starts with the Surrey Archaeological Society. One of the earliest archaeology groups in the country, their remit was to excavate and collect archaeology from around Surrey. They moved to Guildford in 1898, renting Castle Arch House and the seeds of Guildford Museum were born. Archaeology, (human related material recovered from the ground) remains the largest part of our collection. Including items on loan from the Society, there are over 65,000 objects. These include everything from prehistoric hand axes to material from local pottery production sites, and the Bronze Age Spearhead from Reigate you can see in the image.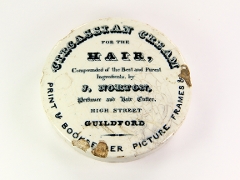 In this picture you can see a lid for a pot of hair cream, Guildford. In 1905, the Town Council started collecting more recent, local history items, relating to Georgian and Victorian Guildford. 20th Century objects have been added, like toy cars produced by 'Victory Industries'. There are fragments of bombs from a WW1 zeppelin raid over St Catherine's and WW2 home front items including gas masks. The collection is strong in architectural salvage, like tiles rescued during demolition of some of Guildford's grandest houses in the 1960s and 70s. Also important is the graphic collection. It includes around 8,000 photographs and drawings depicting scenes of Guildford and other towns and villages in Surrey. As Surrey had fewer museums in the past, Guildford Museum often acquired material relating to other parts of the county.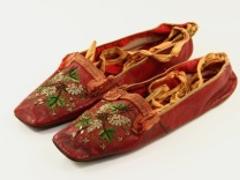 We also care for a collection of needlework and the borough art collection. The museum started collecting needlework in the 1920s when Joan Drew, a local needlework teacher, suggested it. Along with friends, she gifted examples from her own collection and items she had made. There is no stipulation that items must have a Surrey connection - it is intended to represent all types of needlework techniques, such as the red slippers depicted in this image which were worn by a woman from Alfold. It includes examples of tools too, like decorative tape measure holders. There is material from around the world including Egyptian samplers.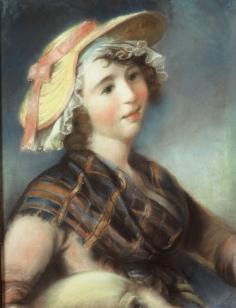 The art collection began in the 1950s when the Town Council purchased one of the grandest buildings on the High Street, Guildford House, and converted it into an art gallery. Alderman Powell, who helped acquire the building, gifted the first paintings. These included works by his famous relative Christiana Herringham. She spent part of her life devoted to preserving Indian, religious, cave art. The collecting policy is for art produced by local artists or depicting local scenes. Of most significance is the collection of around 50 portraits by the Guildford, Georgian pastelist, John Russell, which includes 'Girl with pig' which you can see here.
So how do we decide what to collect and how do we acquire items? The Heritage Service has a
Heritage Collections Development Policy [169.02KB] . This details the collections strengths, gaps, areas where we have an abundance of material, and what our future collecting priorities are. We use this document to guide us when making collecting decisions.
Like many museums, most objects have come from passive collecting - offers of donation from the public. This might include archaeology unearthed by metal detectorists, photographs found whilst clearing an attic or material relating to a Guildford company. Before accepting an object, we write an assessment, looking at things like - 'what condition is it in?', 'do we have similar items already?' and 'does it fill a gap'. Staff meet regularly to discuss new offers. Where we are unable to take an item for the collection, we may recommend it for educational usage or suggest alternative museums. You can find out more by reading our
Donating objects to Guildford Heritage Services [369.22KB] document.
We recently decided to collect only material relating to the Guildford borough, not items from the rest of Surrey. With limited storage space, and gaps in the collection relating to modern Guildford, it is important we have the resources and room to bring Guildford's story up to date. We also plan to develop a more active collecting style - seeking out objects to help tell specific local stories. To achieve this, we aim to use community involvement.