You are here:

Can you help us identify this man? John Russell's pastel of 'The Village Doctor'
Can you help us identify this man? John Russell's pastel of 'The Village Doctor'
Our Museum's Collections Team and art historian Neil Jeffares check up on an intriguing portrait from the Borough Collection.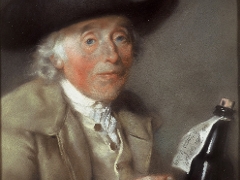 Recently we have been working with art historian Neil Jeffares to solve the mystery surrounding the man in this portrait. The pastel was created in 1793 by the famous Guildford artist, John Russell, and shows a man holding a glass bottle labelled with "a tea cup full 3 times a day".

Our quest began when Neil, who runs the website for the Dictionary of Pastels and Pastellists, wrote to our team in July to find out why the portrait had been recorded as being of 'Dr Samuel Villiese, The Village Doctor of Worplesdon'. The first record we have of the sitter is from scribbled notes stapled to the front of paperwork from 1911, listing him as 'Dr Samuel Vellicoe of Worplesdon'. The documents detail how the pastel was displayed alongside two others at an exhibition at the Brunner Galleries in Paris. It is not clear who wrote these notes and when or where the information came from!
The sale of John Russell's work in 1807 records the portrait as being of "The Village Doctor of Worpletone" (Worplesdon). The Jones family bought the pastel at the sale and by 1911 'The Village Doctor' had been inherited by Charles Percy Jones.
Neil discovered that the portrait then passed to Lottie Smeed, who was living with Jones from at least 1931, after Charles divorced his wife Elizabeth. Lottie's daughter, Mrs Marion Jackson, seems to have acquired the painting from her mother. In 1955, the Mayor of Guildford, Lawrence Powell, bought 'The Village Doctor' from Mrs Jackson and donated it to Guildford Museum.
The first formal reference to Dr Samuel Villiese as the sitter seems to appear in around 1986 in Iris Rhodes's booklet, John Russell RA. Some art historians have identified 'The Village Doctor' as a missing Russell pastel exhibited in 1794 listed as 'Hart the Herbalist'. However, a critic's description of this piece as having a beard that predominates, giving the impression of 'a human chin larded with the fat of bacon', seems to prove this claim unlikely.
Unfortunately, we have been unable to find a remedy to resolve the mystery identity of Russell's old man - despite researching local doctors and individuals with the name of Samuel 'Villiese', or 'Vellicoe'.
It is starting to seem that the mystery identity of our so-called 'quack doctor' will haunt us for some time to come!
John Russell was a Royal Academy artist renowned for pastel portraiture in the late 1700s. Guildford Heritage Services holds one of the largest collections of John Russell's work in the world. View the Borough Collection to find out about Russell's other works in our collection.
Blog post by Gemma Haigh, Curatorial Assistant at Guildford Museum.