You are here:

Exquisite embroidery - delving into Guildford Museum's needlework collection
Exquisite embroidery - delving into Guildford Museum's needlework collection
Now that our needlework inventory is all sewn up, thanks to the help of the collections team and volunteers, we thought we would let you know about some of the beautiful lace and embroidery treasures in this collection.
The Needlework Collection
Guildford Museum's collection mostly consists of objects from our borough, but the needlework collection is slightly different. Started in 1928 by Joan Drew, an embroiderer from Albury, the initial idea for collecting needlework items was to bring together representative examples of needlework techniques and styles, not only from Guildford but from around the world.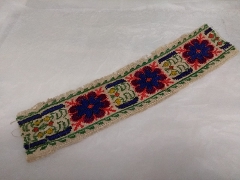 As a result, the Guildford Heritage Services collection includes pieces from Europe, Russia, China, the USA and North Africa.
Its international relevance is not the only thing that makes the needlework collection special. Needlework tends to be viewed as women's work, and has often been thought of as a practical, domestic pursuit, rather than as an artistic one. But the whitework, samplers and embroidery that we look after challenge this view, and demand appreciation for their beauty and artistry, as well as their practical uses.
In collecting, preserving and displaying our needlework, we try to ensure that women's creativity is remembered, understood and valued.
Exploring the Wakely Collection
Over the last few months we have been carrying out a needlework inventory, which involves listing and describing every item in the collection.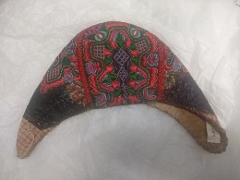 One of the items is a beautiful embroidered cap, pictured. After research, we discovered that this item is part of the Wakely collection, which was bought by the Museum in 1959 from a Mrs Wakely of Guildford.
Started by Mrs Wakely's grandparents, added to by her parents, and finally by Mrs Wakely herself, the collection consists of over 100 pieces, including quilts, lace, embroidery, and samplers. Many of the items donated by Mrs Wakely come from Eastern Europe, Russia and Morocco.
Unfortunately, our records don't give much detail about the Wakely items, so we don't know for certain where this lovely cap is from. Further work is needed to uncover information about the cap and the histories of other objects donated by Mrs Wakely. This will allow us to care for them and share them with the public in culturally sensitive and engaging ways.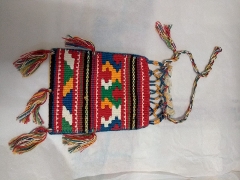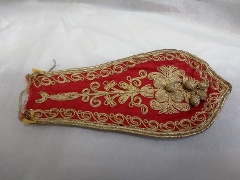 Get in touch!
Perhaps you've seen an item similar to one of these pictured in our blog, or one of the designs or patterns looks familiar to you? If so, please get in touch! We'd love to hear from anyone who could help expand our knowledge of the Wakely collection, or the needlework collection as a whole.
Blog post by Emma Raymond, Curatorial Assistant at Guildford Museum.