You are here:

Halow - building futures
Halow - building futures
Here at Heritage Services we are always looking for a new ways to work with different community groups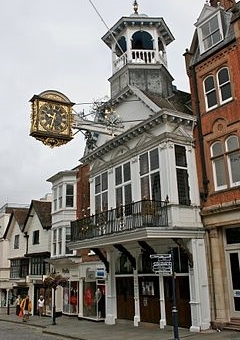 For the past two years, we have worked with
Halow
on projects relating to the historic buildings in our care.
In 2017, we explored together the history of Guildford House Gallery and last year the Guildhall!
Have you heard of Halow? In this blog they tell us all about who they are, the project, and how it felt to be a part of it.
"We are part of the Halow project, a charity based in Guildford that supports young people with learning difficulties. We are on the Year C Building Futures programme where we learn skills around relationships, independence, travel training and work skills. We do activities such as gym, cooking, work experience and outdoor learning to help us develop the skills mentioned.
Last year we took part in a project with Melanie Holliker who is the Access Officer for the Heritage Services at the Guildford Borough Council. The project lasted 5 weeks and was based on the topic of the The Guildhall. Firstly, we had a guided tour of the Guildhall to learn more about it and then we worked in groups to create worksheets such as introduction of the history, a picture quiz, spot the difference, word search and power point tour. We then presented these to the Year A group who tested our worksheets during their tour of the Guildhall.
Our favourite parts of the project were doing the tour of Guildhall and of course standing on the balcony when it was snowing! We found it interesting to learn about the history of the building and passing that knowledge on to our friends in Year A. We also enjoyed making the worksheets and working with Melanie.
We are proud of learning new things as part of the project and passing the information on, through the worksheets we created, to another group or in the future the visitors to the venue.
We very much enjoyed taking part in the project last year and we would like to get involved in more!
We have also enjoyed writing this blog so much that it inspired us to create our own one, which we hope is easy to use for people with learning and other disabilities. Here it is, The Halow Blog, we hope you like reading this one too!"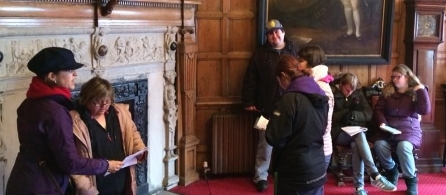 If you are inspired by the Halows' blog and project, why not try out the wordsearch or activity sheet that they created?
You will also have a chance to visit the Guildhall and test the activity sheets during the Heritage Open Days 2019 on 12 & 13 September 10am-1pm and 14 September 10am-4pm.
Or if you'd like to find out more about Guildford House Gallery pop in and pick up the quiz sheet developed by Halow back in 2017 and get exploring!
Stay tuned for more as this spring we invited Halow to look at the history of the buildings that make up Guildford Museum. We are very much looking forward to seeing what activity sheets they will create for us all to try out!