You are here:

Guildford embroidered baby caps - the Wakeford Layette
Guildford embroidered baby caps - the Wakeford Layette
In this second blog post about the museum's embroidered baby caps, Collections Manager Catriona Wilson looks at the poignant stories and emotions behind some of our baby clothes.
To read the first part of the blog about our embroidered baby caps, see the God bless the sweet babe: Guildford Museum's embroidered baby caps.
Like many museums with social history collections, Guildford Museum holds a lot of baby clothes. This is usually for one of two reasons (if not both):
Firstly, baby clothing tends not to get worn out because it is used for such short periods of time before being outgrown, and usually by a relatively immobile infant. Secondly, baby clothes tend to hold sentimental value for families and are kept to be passed down. My own family has a christening gown that is over 100 years old.
I have recently read extracts from a book called 'Feeling Things - objects and emotions through history' (published by Oxford University Press) which looks at emotional responses to objects or collections within museums. The editors, Stephanie Downes, Sally Holloway and Sarah Randles refer to the inherent 'emotional potency' held within certain types of collection items. To me, baby caps are some of the most emotionally potent objects in museums. Since my son's arrival in 2017, this group of objects has taken on new meaning for me.
Until relatively recently, survival beyond infanthood was by no means certain. Many of the babies who wore these caps and others like them in museums across the country did not live into adulthood. Some of the caps were almost certainly made for babies who then died before or during birth. This often makes me wonder how many of our baby caps were kept as treasured mementos of lost children, or perhaps even children that women weren't able to have. Motherhood itself can be highly nuanced and not always wholly positive too—in a collection of 100 caps, how many were made by women who felt unhappy about aspects of motherhood?
The baby cap featured in this blog post was certainly kept for sentimental reasons, though we think because of the death of a mother rather than her child.
This cap is the oldest baby cap in our collection and part of a layette (the set of baby clothing made before a birth). This is one of our most interesting baby sets as it is dated through a baptism certificate and is thought to have been made in the late 1600s (or at least in that style). It was originally stored inside a beautifully embroidered 'stumpwork' box from the mid-1600s. Stumpwork is a complex embroidery technique from the 1600s, which used raised and padded images and adding details like metal or different materials in order to create a 3-D effect. We think that the box was not originally part of the layette and instead was a repurposed sewing box.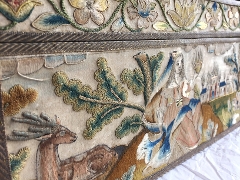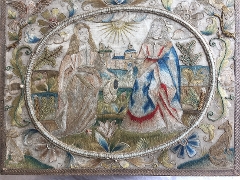 We call it the 'Wakeford layette' because tucked inside its box is a note about the baptism of a boy called Henry Wakeford.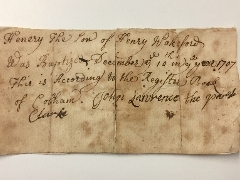 (The note reads: Henery the Son of Henry Wakeford Was Baptised December the 10th in the year 1707. This is According to the Register Book of Cobham. John Lawrence the Parish Clarke.)
The baptism register for Cobham recorded '1707.Dec.10. Henry s[on] of Henry Wakeford of Chilbrook, farmer.' Chilbrook Farm still exists today, just south of Cobham.
The linen cap set within the Wakeford layette is typical for its time and is in three parts.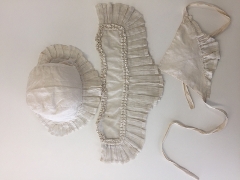 The first part is a triangular forehead cloth with two ties which would be done up under the baby's chin (the long bit of the triangle sat along the baby's forehead, and the point down the back of the head).
The second part is the more obvious cap, with a frill of pleated muslin all around that widens at the front.
The final piece, which sat on top of the previous two, is a rectangular piece of linen with pleated muslin on three sides. This last piece would have been attached to the shoulders to prevent the child's head from wobbling.
The Wakeford layette includes a shirt, bib and mittens as well, all decorated in different ways with ruffles, pleats and lace. There is also an alternative head cloth with a rectangle of very beautiful lace set at the front.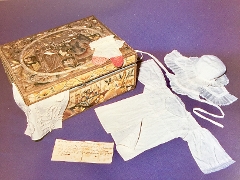 We think that Henry's mother died in childbirth as the parish registers record that a Mary Wakeford, wife of Henry Wakeford, was buried in Cobham on the same date as little Henry was baptised. We also think that young Henry may have survived at least into childhood as he was not recorded on the death or burial registers around that time.
To me, this set is evidence of the emotional value of baby clothing. We will never know for certain, but I like to think that Henry Wakeford kept the clothing inside his wife's sewing box as a memento, either for himself or for his son, and through it they were able to remember the life of Mary, wife and mother.