You are here:

Bringing Guildford Castle to life
Bringing Guildford Castle to life
"It's the most wonderful time of the year" and we are getting ready for a royal visit from the past! We will be welcoming King Edward III, Queen Philippa of Hainault and members of their court to Guildford Castle on Saturday 7 December.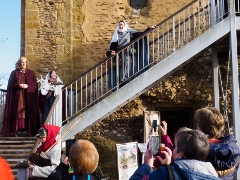 Musicians, courtiers and even the 'gong scourer' (loo cleaner!) will be at our special Christmas fun day, with re-enactments by
Past Pleasures
, an historical interpretation company. There will also be a medieval encampment around the castle grounds, hosted for us by
Historia Normannis
, a 12th-century living history group that brings history to life in an informative and exciting way.
King Edward and his court visited Guildford Castle in 1347, during which time the king and queen enjoyed a Christmas masque. Originating in Italy, masques were a type of entertainment popular in high society. They involved dancing and acting, with performers wearing masks and costumes. Masques flourished across Europe in the 16th and 17th centuries.
King Edward also visited Guildford on a few other occasions, including Easter in 1336 and the Feast of Circumcision (1 January) in 1337, and in 1340.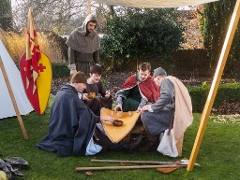 Medieval Christmas celebrations went on a bit longer than a day or two, and usually lasted until the end of 6 January. By 1300 the Christmas period had become the most celebrated event of the year in Europe. Many monarchs also chose this festive season for their coronation. The coronation of William the Conqueror, for example, took place on Christmas Day in 1066.
Alongside such big events celebrated by the upper classes, there was often a joke version taking place among the lower classes. Around the Christmas period, for example, there was the 'coronation' of the 'Lord of Misrule' - a person, usually someone from the lowest class of society (in this case our gong scourer), chosen to be in charge of festivities and boss everyone around. If you join us on 7 December you will have a chance to be the 'Lord of Misrule!
There was no present giving on 25 December. Gifts were mostly given around New Year's Day to celebrate the Epiphany, the Feast of The Three Kings. Boxing Day was a day for the reversal of fortunes where the rich provided gifts for the poor. The gift was generally money given in a small clay pot with a hole at the top, which had to be broken in order to get the money out. Nicknamed 'piggies' they became the first version of the piggy banks we have today.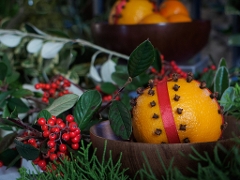 What about decorations? Christmas trees only became popular in the 19th century. Instead, Holly, Ivy and candles brought a spiritual and festive feel to the décor of this period. This year floristry students from
Merrist Wood College
will be decorating the castle with medieval-inspired greenery.
Carols, especially those showing devotion to Mary and her purity, became very popular. Did you know that singing carols from door to door resulted in carols being banned in churches in medieval times? It was thought that church Masses were being ruined by carol-singing and dancing in a circle - which is how they were originally performed!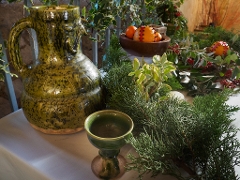 The festive session is usually associated with an abundance of food and treats. From records of the Christmas feasting of the Bishop of Hereford in the 13th century, he and his 40 guests enjoyed a boar's head, beef, venison, partridges, geese, bread, cheese and ale. He also supplied his guests with 151 litres of red wine!
Wealthy families could serve up to ten courses! The medieval Christmas was also a period for charitable giving, such as sharing food with those who were less fortunate.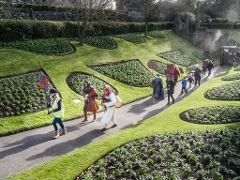 Why not travel back in time to a medieval Christmas and re-live King Edward III's masque on 7 December from 11.30am to 3.30pm at Guildford Castle! You may even like to join us in the royal procession from the High Street to the castle. Sadly, we will not be having a ten-course meal, or drinking hundreds of litres of wine!
Did you know that King Edward III (born on 13 November 1312) was the first English king to have the exact time of his birth recorded at 5:40 am! That is 707 years ago almost to the day!
Blog post by Dajana Topczewski, Guildford Museum's Engagement Officer.
Images by Nick Bale, Friend of Guildford Museum. The photos were taken during Christmas at Guildford Castle in 2017 and 2018 © Guildford Borough Council, Heritage Services.