How can we improve the town's transport, infrastructure, housing and local economy?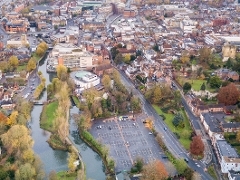 How the town's transport, infrastructure, housing and local economy can be improved are the topics at our next online debate about shaping Guildford's future on 22 February at 6pm.
Since December, and the launch of Shaping Guildford's Future, we've been asking people who live, work and visit Guildford to have their say about what they'd like to see as part of any future development of the town centre.
The webinar, independently chaired by broadcaster and Guildfordian Peter Gordon, will discuss key issues relating to the sustainability of our town. The panel of experts will cover topics including transportation, the local economy, health and wellbeing and issues around flood control. The panel includes Professor Amelia Hadfield from the University of Surrey, Cllr John Rigg, Lead Councillor Regeneration at Guildford Borough Council, transport consultant Andreas Markides and Rebecca Fletcher from Arup.
Lead Councillor for Regeneration, Cllr John Rigg said: "The webinars have been popular, with debate and space for asking difficult questions.
"Hundreds of people have already let us know what they think about our plans to shape Guildford's future by filling out the online questionnaire. Every single comment is being recorded and will form part of the report presented to the Council, which will shape our plans.
"It's important that we get as many different views as possible and I'd encourage everyone to get involved, register for the online debate and help shape Guildford's future."
There are other ways you can get involved, earlier this month we held our first pop-up stall at the Farmers' Market in the town centre. Find us this Friday (18 February) at the North Street Market.
Shaping Guildford's Future, aims to breathe new life into the centre by opening up the riverside, improving air quality, introducing more alternative, sustainable and affordable transport as well as making Guildford a more attractive and healthier place to live, work and visit.
To watch previous webinars, respond to the consultation or register for future events please visit www.shapingguildford.co.uk or find us on Facebook, Twitter and Instagram.