Public inquiry into an appeal against non-determination of a planning application at Land at Wisley Airfield, Hatch Lane, Ockham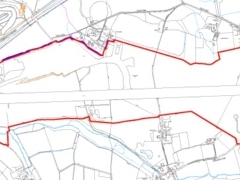 What you need to know
The appeal will be determined at a public inquiry. The inquiry opens on 26 September 2023 and is currently due to last for 24 days. Details of the venue and timings are available in the notification letter dated 13 September 2023 and are also listed below. Note these are subject to change. Check this page regularly for any changes to dates and timings as advised by the Planning Inspector.
The planning application number is 22/P/01175
The Planning Inspectorate reference number is APP/Y3615/W/23/3320175
View the documents for the inquiry
View documents related to the appeal (opens new window)
View the core appeal documents (opens new window)
Attend the inquiry in person
The inquiry will start on 26 September 2023. It's currently scheduled to last for 24 working days. All the dates have been provided by the Planning Inspector but may change during the inquiry.
September 2023
Venue:
Guildford Baptist Church
Millmead
Guildford
GU2 4BE
Dates:
26 September 10am
27 September 9.30am
28 September 2.30pm
October and November 2023
Venue:
Guildford Borough Council offices
Millmead House
Guildford
GU2 4BE
October dates:
10 and 11 October 9am
12 and 13 October 9.30am
17 and 18 October 9.30am
19 October 9am
20 October 9.30am
31 October 9.30am
November dates:
1 Novembre 9.30am
2 November 9am
3 November 9.30am
7,8 and 9 November 9am
10 November 9.30am
21 Novemver 9.30am
22 and 23 November 9am
28 November 9.30am
There are no parking facilities at either venue. Public pay and display car parks are available nearby.
The council offices have no facilities to buy food and drink. Bring your own water bottles. There are water fountains to top water bottles.
Watch the inquiry online
You can watch the inquiry online on any of the above stated dates. Make sure you are using the correct venue link on the day. The links are:
Watch the public inquiry online via LiveStream at Guildford Baptist Church (opens new window)
Watch the public inquiry online via Teams at Guildford Borough Council Offices (opens new window)
Meeting ID: 372 781 651 081
Passcode: TLJgCG
Or call in (audio only): +44 20 3855 4748 (Phone Conference ID: 939 180 426#)
Additional information
If members of the public or the press require assistance with the links or have concerns about facilities at the Public Inquiry venues, they should contact us as soon as possible before the Inquiry starts. To get in touch email Mark Cook at Mark.Cook@guildford.gov.uk or Danielle Rans at Danielle.Rans@guildford.gov.uk or call 01483 505050.