Exhibition of phase three proposals for Weyside Urban Village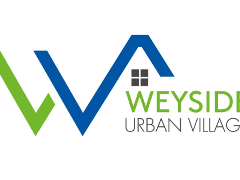 We're holding an exhibition of the current proposals for phase three of Weyside Urban Village. Everyone is welcome!
Date and Time
Thursday 21 September 2023, from 4pm to 8pm
Venue:
The Aggie Cafe and Social Club
Parsons Green, Bellfields
Guildford GU1 1QY
The proposed phase three development is located to the south of Weyside Urban Village. Phase Three will form an important gateway into the new community. The proposals will provide around 175 homes of different tenures in a mix of houses and apartments. The new homes will become the Heritage Quarter of Weyside Urban Village. They will draw on the rich architectural character of the existing Pump House building. It will be kept and celebrated within a new landscaped public space.
Have your say
The exhibition is your chance to see the current proposals and talk to the design team. We'll be on hand to:
answer questions
collect your comments
update you on the progress we've been making on site
After the exhibition, we'll review the proposals taking into account the comments received. We will submit a detailed planning application in autumn 2023.
Can't get to the exhibition?
You can view exhibition materials and make comments online.
This online consultation runs from 8pm on Thursday 21 September to 5pm on Friday 29 September 2023.
Background to the development
The new Urban Village will be a green and thriving community alongside the River Wey. It will have 1,500 new homes, of which 40% will be affordable. New green spaces and play areas, employment space and a commercial centre will be created. In July 2023, planning approval was granted for 81 new homes for Phase One. You can find out more on the Weyside Urban Village website (opens new window)