>
>
>

Guildford Design Awards
Guildford Design Awards
Our biennial Guildford Design Awards celebrate well designed, innovative architectural and environmental projects that contribute to the aesthetic quality and the sustainability of the borough. Our online application form will be available from April 2017 for you to submit an entry to the awards.
A range of projects are eligible and the awards are open to anyone, including architects, house builders, developers, contractors, schools, voluntary associations, individuals and homeowners or the designers who have contributed to a scheme within our borough.
The types of design include, but are not restricted to:
New buildings - residential, commercial, community, educational, health, infrastructure or industrial.
Alterations to existing buildings - including extensions, refurbishment, repairs, conversions or restoration of a building that has been brought back to life.
Public and private open spaces - including parks, gardens, pedestrian or play/recreational areas that are of great design and that contribute to the character of the surrounding area.
Schemes must be within Guildford Borough, although the entrant may be located outside of the borough.
To register your interest in our 2017 awards, please email managementsupport@guildford.gov.uk.
Award winners
Take a look at the winning images in our
Guildford Design Awards 2015 PowerPoint [7.02Mb] .
Two winner certificates were awarded in 2015.
Winner - Chantry Quarry, Guildford - new build
Entered by Latchmere Properties.
Chantry Quarry development. Photo: mdm-photography.uk.com
Judges' comments: This small, steep-sided and awkwardly shaped former quarry has been converted to create an ambitious housing development, with a character that creatively responds to, and exploits, the site's constraints.
Particularly impressive is the design team's response to the topography, landscape and ecology. The design maximises the use of a limited building footprint, while retaining accessible woodland, and planting on quarry sides - with a human scale landscape at ground level and green roofs at a variety of elevations.
The development also shows a welcome passion for sustainability, including log burners, LED lighting, solar hot water and grey water systems, as well as the afore mentioned green roofs.
Winner - Restoration and extension to a home originally designed by AC Burlingham, Guildford
Entered by Stedman Blower Architects.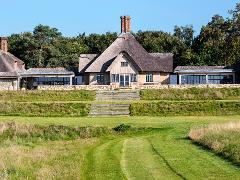 Photo: Laura de Cesare
Judges' comments: A superb extension to an existing heritage building. The challenge of providing sympathetic additional living space to a house of special architectural and historic merit has been responded to with sensitivity and creative flair.
There is an inventive use of space which incorporates the existing house, a reinterpretation of a garage and wood store, and new additions, to create a whole which also responds delightfully to the mature gardens and magnificent views.
The modern materials respond to, link with, and complement the original building and the construction displays superb workmanship.
Highly commended
The Plowright Building, Pirbright Institute - new build
Entered by the Pirbright Institute.
Judges' comments: We are delighted to award a highly commended certificate to this mould-breaking approach to creating a sympathetic and human scale twenty-first century working environment, while simultaneously meeting very demanding technological and safety requirements.
The design solution stretches the boundaries and uses creative solutions to provide a sensitive, yet high-tech, working environment.
Particularly impressive is the introduction of natural light into laboratories (heretofore designed and built as sealed boxes), the building techniques and works management.
Commendations
Guildford Baptist Church, Guildford - phase two redevelopment
Entered by Re-Format.
Judges' comments: A sympathetic refurbishment of an existing 1970s church building. The second phase has achieved much on a limited budget and within a short time frame.
We were impressed with the consideration given to the relationship between the building and its external space, and the good use made of its extensive views, the imaginative use of fenestration and light to illuminate awkward and dark spaces, and the overall environmental performance and sustainability of the design.
We would welcome a further submission of the entire building when the final phase is complete.
5G Innovation Centre, University of Surrey - new build
Entered by The University of Surrey.
Judges' comments: A new building created in the existing university campus which responds well to its constrained location, sloping site, existing neighbours and extensive views.
The designers also worked creatively to enable the building to be constructed within a limited time frame and to deliver a building well suited to its users' requirements, with good attention to environmental performance and all within budget.
The Hautboy, Ockham - restoration and conversion
Entered by Birchwood Homes.
Judges' comments: A sympathetic restoration of a heritage building, providing residential accommodation in a rural location.
A particular mention should be made of the quality of external renovation and provision of garden areas and car parking on an awkward site at a road junction.
Special mentions
Special mentions were given to the following projects which received finalist certificates:
The Bellairs Apartments, Guildford - restoration and conversion
Entered by Reside Developments and Urban Green Developments.
Judges' comments: This project was awarded a finalists' certificate for the conservation of an historic building, formerly the Guildford School of Acting's Bellairs Playhouse.
Particular mention goes to the re-use of original material, for instance the leaded lights and doors.
Trelawne, Guildford - new build
Entered by DNA Architecture.
Judges' comments: An exciting modern design, exploiting the stunning views afforded by its location and creating generous, attractive and flexible living space.
Thank you to those who submitted entries and contributed to the Guildford Design Awards and helped deliver such innovative projects.
We would like to thank Linden Homes who kindly sponsored our Guildford Design Awards.