You are here:

Guildford off-street parking review
Guildford off-street parking review
We are introducing amendments to the existing parking controls in the off-street car parks around the Borough Council's offices in Millmead.
This is to ensure that the use of these car parks is prioritised for visitors to the Council Offices, councillors and members of staff. Please note that these changes do not affect the on-street parking controls in the area.
In January 2018,
Guildford Borough Council's Executive [85.8KB] agreed to advertise the proposals. Following their advertisement in July 2018, further authority has been acquired in order to implement the amendments as advertised.
Car Parks where changes are being made
Changes coming into effect on Monday 1 October 2018
The public notice, statement of reason and traffic regulation order appear below:
Guildford parking app
Do you want to find out about real time availability and directions to car parks? Download our parking app.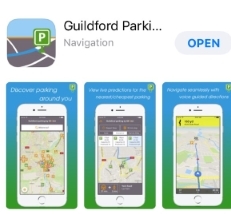 The Guildford parking app. is available from:
Related pages
Translate