You are here:

Guildford off-street parking review
Guildford off-street parking review
Together with the Guildford Borough Council's Parks and Leisure team, we are introducing new off-street parking controls in a number of the Parks and Leisure car parks throughout the borough.
May 2019
These changes will ensure that the use of these car parks is prioritised for visitors to the leisure facilities associated with them. Because of concerns raised by users of various car parks, the Parks and Leisure team undertook an assessment of the parking issues in a number of their off-street parking facilities.
In January 2018, our
Executive agreed to advertise the proposals [722.21KB] . Following their advertisement in June 2018, further authority was given to put the amendments into place, as advertised.
Here are the car parks where changes are being made. These changes will come into effect on Tuesday 28 May 2019
The public notice, statement of reason and traffic regulation order appear below:
Guildford parking app
Do you want to find out about real time availability and directions to car parks? Download our parking app.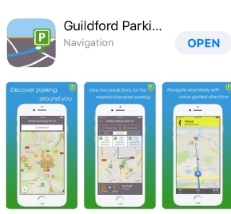 The Guildford parking app. is available from:
Related pages
Translate