You are here:

Our History Our Identity outreach project
Our History Our Identity outreach project
Community outreach and engagement project across Guildford borough.

The project
Last year, we gathered memories and stories of Guildford's past and present during the Your Stories, Your Museum - funded by Arts Council England project. This year, we want to build on this work and reach more people, exploring connections, conversations and stories about Guildford's surrounding villages. The project, 'Our History, Our Identity' will reveal our borough's rural history and identity, through work with partner organisations, such as: museums, village halls, societies, local groups and individuals.
We want to visit as many parishes as possible - perhaps attend a local event, bringing our small stand and, of course, some museum objects to break the ice, stir memories or create intrigue. We'll try to find objects that relate to the area we're visiting. If you'd like to be part of the project, please let us know by contacting our Engagement Officer on heritageservices@guildford.gov.uk.
Upcoming events
See the lists showing our past and upcoming events here. If we are in your neighbourhood, do pop in to say hello and have a look at the objects that we have touring Guildford borough.
27 August - Normandy Village Fete

9 September - Heritage Open Day at Ash Museum

30 September - Commoners Day at Effingham Common

27 October - Tongham Autumn Fair
---
Events attended
11 August - Ripley Farmers' Market
With amazing smells and great local produce, Ripley Farmers' Market was a great place to find out more about what makes Ripley unique. It will not come as a surprise that Eric Clapton is strongly embedded in the village memories, but so are the roots of cycling through Ripley High Street, the history of cricketing or a coaching stop for sailors travelling to Portsmouth; apparently, even Admiral Horatio Lord Nelson stopped here...!
Our stand was visited by Marilyn Scott, director of The Lightbox Gallery and Museum in Woking, who was celebrating her 28th anniversary of moving to the area. Marilyn commented:
"More history in the village now than anywhere else I know. Everyone has a story and every building has a history. Having lived here for 28 years this month I am still finding out new things and undiscovered treasure in the community. I had never seen the enamelled crucifix fragment from Newark Priory until today - I had seen it many times in pictures and knew the story of the Priory but I had never seen any artefact, that was really thrilling. I have always found it a magical place - the painting by Turner captures its magic but to see something tangible was a real thrill."
Cameron Brown, Chairman, Send & Ripley History Society, commented:
"Well done Guildford Museum for their initiative in inviting communities all around the borough to think about what is special about their own village or town. There was lots of interest among the visitors to Ripley's Farmers' Market. Please come again."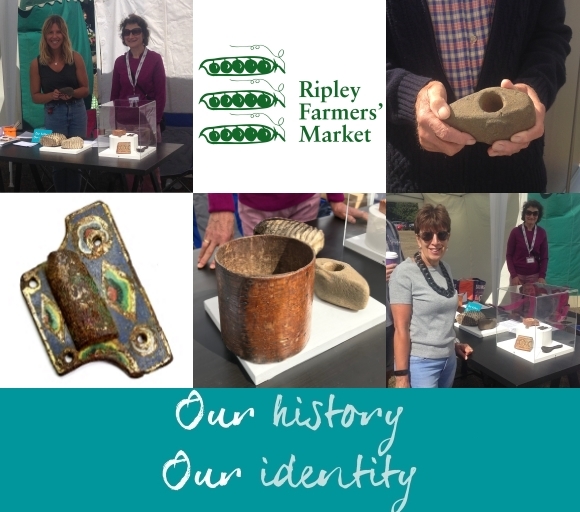 ---
5 August - Wanborough Barn Open Day
Watch our short video to find out more about our day at Wanborough Barn.
Stephen Callender, Chairman, Wanborough Barn's Management Committee commented:
"We were delighted to welcome Guildford Museum to The Great Barn of Wanborough on our 5 August Open Day.
It makes a lot of sense for the museum to engage with local people and explore the stories and history of the Borough away from the town centre.
Wanborough is steeped in history from pre-historic man, to the Monks who built The Great Barn over 600 years ago, to the SOE who trained here.
By displaying the ancient Celtic/Romano Priests' regalia found close by, the Museum added an important relevance that attracted a lot of attention from visitors to The Barn and helped encourage contributions to the Our History, Our Identity project."
Related pages
Translate
Twitter feed
Follow