You are here:

Parking review committee reports
Parking review committee reports
Together with the County Council, we are reviewing the on-street parking situation in various locations throughout the borough. Surrey County Council's Guildford Joint Committee (SCCGJC) is responsible for considering the scope of reviews and which issues are progressed through to implementation.
The current parking review began in September 2018, and the outline of its scope was determined at the SCCGJC meeting held during that month - view online the
Scoping report. [2.99MB]
At that meeting the committee also agreed to set up a working group to further consider the prioritisation of parking issues. This met in October 2018 and February 2019. It subsequently reported its recommendations to back the March 2019 meeting of the SCCGJC - view online the
Finalised scope report. [6.6MB]
The SCCGJC agreed the recommendations, and as outlined within the March report, it is our intention to formally advertise proposals associated with the parking proposals the committee has chosen to progress in the coming months.
Please contact Parking Services on 01483 505050 if you have any questions.
Guildford parking app
Do you want to find out about real time availability and directions to car parks? Download our parking app.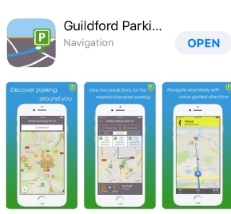 The Guildford parking app. is available from:
Translate