You are here:

Repair Café
Repair Café
Learn to repair your broken items for free at the Guildford Repair Café.

What is it?
Repair Café is an international movement that encourages people to think about re-using and repairing items rather than throwing them away.
The Guildford Repair Café is run by a dedicated group of volunteers and is supported by us.
The Café helps you to continue using and enjoying items you love. It also develops skills, reduces waste and CO2 emissions, and encourages a sustainable community.
Mend your favourite things
What do you do with a wobbly chair or when the zip breaks on your favourite jacket? Throw it away? No way! If you have an item that is broken or needs adjusting, bring it along to the Guildford Repair Café! Come and learn how to fix items yourself with the help of our friendly team of volunteer repair experts, all free of charge.
We have experts on DIY, woodwork, bike mechanics, electrical items (including portable appliance testing), sewing and upholstery who will show you how to make all possible repairs and answer your questions.
Where is it?
We aim to host an event once a month and our usual base is the Park Barn Social Centre on Park Barn Drive, Guildford GU2 8EN. See the map showing this location.
Here is your guide to upcoming Repair Cafés in Guildford in 2020.
Repair Café dates and times

| | | |
| --- | --- | --- |
| Date | Time | Location |
| 12 September | 10am - 12pm | Park Barn Social Centre, Park Barn Drive, Guildford, Surrey GU2 8EN |
| 10 October | 10am - 12pm | Park Barn Social Centre, Park Barn Drive, Guildford, Surrey GU2 8EN |
| 14 November | 10am - 12pm | Park Barn Social Centre, Park Barn Drive, Guildford, Surrey GU2 8EN |
| 12 December | 10am - 12pm | Park Barn Social Centre, Park Barn Drive, Guildford, Surrey GU2 8EN |
What can we repair?
Our team are always on the look-out for a new challenge! If the item is hand-portable and not in a dangerous condition, then our experts will take a look, give honest opinions and go ahead with any viable repairs with your agreement.
The team has achieved a fantastic 86% repair rate in the last 12 months. In the last six months, 158kg of waste has been diverted from landfill, saving an estimated 20.02kg of CO2 emissions using our carbon foot-printing methodology.
Here are some of the successfully repaired items:
Small household appliances - table lamps, kettles, sewing machine, food mixer, telephone

Furniture - cot, tables, chairs, bench, drawers

Gardening equipment - branch loppers, hedge trimmer

Electricals - battery drill, phones, projector, electric drill, vacuum cleaner

Sewing / upholstery - jeans, rucksack, pillowcase, duvet cover, trousers, curtains, cardigan, fleece jacket, quilted baby blanket, track suit top

Toys - wooden jigsaw, electric toys, Nerf holster, rocking horse; railway sets, toy kitchen

Push bikes - children's and adults' bikes.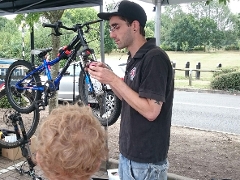 Volunteer with us...
If you have good basic DIY/practical skills, enjoy fixing things and support the 'make do and mend' culture, we would love to hear from you. No specialist qualifications are needed. Many of the repairs brought to the Repair Café are basic and straight forward.
If you are, or know of, an electrician, seamstress, carpenter, bike mechanic, gadget guru or handy person who would like to volunteer to help us, please get in touch.
You don't need to commit to every month as occasional help is welcome too.
Related pages
Translate
Downloads