You are here:

A new addition to the Guildford Borough art collection: Anna Louisa Halsey by John Russell RA
A new addition to the Guildford Borough art collection: Anna Louisa Halsey by John Russell RA
With the help of the Friends of Guildford House Gallery, we have acquired a new addition to the Guildford Borough Art Collection.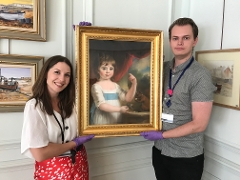 This pastel is by 18th century Royal Academician, John Russell, and depicts young Anna Louisa Halsey.
John Russell is a name well known locally because he is probably the most famous artist to have come from Guildford. The Russell family were very involved in the government of the town, Russell's father having been Mayor on four occasions between 1779 and 1797.
John Russell was born on 29 March 1745, the oldest of seven children. Educated at the Royal Grammar School, Russell started sketching Guildford landmarks as a child. At fifteen, he became the apprentice of Francis Cotes, who taught him how to draw pastel portraits. Russell learned how to uniquely blend, sweep and use the tips of pastels to create different effects.
Quickly, Russell became one of the most skilled pastellists ever to have lived, and at only twenty-two, set up his own studio in London. There he became friendly with Royal Academy founder and well-known portrait artist, Joshua Reynolds. He started exhibiting work at the Royal Academy in 1769 and became a member in 1788. During his lifetime, Russell exhibited 332 of his works at the Royal Academy.
Anna Louisa was the fifth of seven children born to Henry Halsey and Mary Glover in 1795. The Halseys occupied the Georgian manor house at Henley Park in Pirbright and the children were baptised in Normandy. The 2000 acres owned by the Halseys were formerly part of a royal deer park bought by Edward III. The manor of Henley Park still stands today and is broken up into private apartments.
We think that Russell created this portrait in the late 1790s and never exhibited it at the Royal Academy.
It was purchased for us with the help of the Friends of Guildford House Gallery and has its original 18th century guilt frame.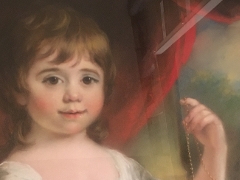 In the picture, Anna Louisa Halsey wears a plain white dress and sash of the kind that was common attire for boys and girls under 5 years old during this period. The grounds of Henley Park are behind her. Russell has cleverly picked out the pink of her rosy cheeks by presenting her below a theatrical-looking red curtain, which is similar to the kind of drapery used by Joshua Reynolds in his portraits.
The red squirrel shown beside Anna Louisa has been interpreted as a motif, and is not thought to have been a pet. Russell used a squirrel in another portrait with a child and exhibited it at the Royal Academy in 1788. The squirrel in our picture pastel is linked to the little girl via a collar and chain that she holds onto. In her right hand, she holds cobnuts to feed it.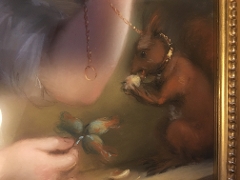 This picture is on display until September 2019 in our People and Places exhibition at Guildford House Gallery.
It will also be one of 20 pictures of women by John Russell researched by Gemma Haigh, Curatorial Assistant at Guildford Museum, as part of a project funded by the Understanding British Portraits group. For more information, please see https://www.britishportraits.org.uk/resources/fellowships/.
We will keep you updated on Gemma's research and how she gets on in her research fellowship.
Blog post by Gemma Haigh (pictured above with Councillor James Steel).