>
>
>

Your Stories, Your Museum - funded by Arts Council England
Your Stories, Your Museum - funded by Arts Council England
Through 'Your Stories, Your Museum' project we want to get more local people involved in planning for the future, to help choose the Guildford stories that Guildford Museum will explore in new displays, activities, events, and to hear from anyone interested in becoming a volunteer.

The project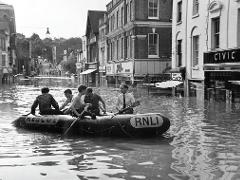 We are delighted to have been awarded a grant from Arts Council England (ACE), from its Museum Resilience Fund, for our "Your Stories, Your Museum" (YSYM) project. This will enable us to build our relationships with the town, the borough and to work with our local community to develop offers that meet local needs and interests.
This project is complementary to the Museum and Castle architectural scheme in helping us create a lively community museum for the 21st century in our redeveloped site.
Your Stories, Your Museum is a major community engagement project that will get more local people involved with the life, work and future of Guildford Museum.
We will be hosting different events and exhibitions, within the museum and out in the community, working with local people to identify the big Guildford stories and use these to explore in new displays, and try out different ways of telling those stories so that they appeal to a range of visitors. Informing what we do, why, and how we are doing it is a vital part of this project.
Gathering memories and stories
As part of the project we are now gathering memories and stories relating to Guildford's past and present. We hope as many people as possible will give us their answers to the following key questions:
What makes Guildford Guildford? A good talking point!

What's your strongest memory of life in Guildford?

What's the biggest Guildford story that's happened in your lifetime?
Please send us your answers to these questions or drop by the museum and add these to our Your Stories corner.
YSYM events
We will be at events in Guildford and the surrounding areas, talking to residents and visitors. Check our Guildford Museum page, or social media for more information about the project, what we are up to and for a list of events that we will be joining.
You can also share your stories and memories with of us during these events.
Come and say hello to us at:
Inspired by Alice Family Fun Day, Sunday 6 August, 11am to 4pm, Guildford Castle Gardens.
Celebrate Lewis Carroll's famous storybook character Alice across the beautiful Guildford Castle grounds and get ready for a day full of fun and entertainment.
Meet Alice and her friends and join them in many activities and games available for children and adults of all ages. Don't forget to visit our Your Stories, Your Museum stand to share your stories and memories of Guildford with us.
The Friary Guildford, Wednesday 16 August, 10am to 4pm.
As part of Your Stories, Your Museum, we want to hear the memories of Guildfordians and visitors alike.
Come along to The Friary and tell us your memory or story of the town, and what you think makes it special.
Check out what we've done so far.
Image - Guildford High Street in flood, 1968. ©Photograph taken by Thomas A Wilkie FRPS AIBP
Volunteering opportunities
We will develop more opportunities for local people to work with us in providing services, by developing our band of volunteers. Please get in touch if you would like to volunteer. We'd love to hear from you.
These roles are mostly based at Guildford Museum, they are:
YSYM Events Volunteer - attending community events with Your Stories, Your Museum project, talking to general public, gathering feedback, setting up stalls.

YSYM Activities Volunteer - assisting in preparing and delivering children's/family activities, such as crafts (both drop-in and pre-booked) during school holidays and on Saturdays. These may have a craft, science, history or other theme. Preparing workshops for adults, assisting in creating appropriate resources and helping with setting up workshops and clearing up afterwards.

YSYM Visitor Engagement Volunteer - helping with consulting / talking to visitors, making visitors welcome, gathering feedback, looking after the resources available around the museum; those can relate to trails or interactive exhibits.
If you are interested in being a part of our team, and for more information, please call us on 01483 444751, or email HeritageServices@guildford.gov.uk or write to Guildford Heritage Services, Guildford Museum, Castle Arch, Guildford, GU1 3SX.
Read about the YSYM project:
Museum testing station
Calling all testers - we are shortly going to install a museum testing station where you will be able to let us know how you most enjoy connecting with our collection and displays by:
exploring text

finding out more via a touchscreen

doing a creative activity

discovering objects by studying them up close
This is also a very special opportunity to explore the Discovery Lounge, an upstairs room in the museum, where the testing station will be located. The room hasn't been opened to the public before. More information will be available here shortly.
Background page image: Guildford High Street in the snow, December 1962. © Photograph taken by Thomas A Wilkie FRPS AIBP