Coffee shop at the The Hive - The Honey Pot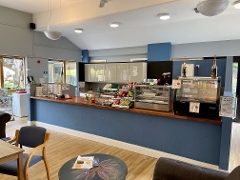 What you need to know
Our coffee shop is a wonderful family friendly space, open to everyone. The space is an open and welcoming environment. This is a community led space, designed to work for you and your family.
Fresh cakes, light bites and refreshments are available, including a mug of tea or coffee from 70p.
Alongside our coffee shop is a large play space for children to use. All children using this space should have an adult with them and cannot be left unsupervised.
How to find us
You can find us as soon as you enter the Hive. We are pushchair and wheelchair accessible.
Opening times
We are open:
Monday to Thursday: 9.30am to 4pm
Friday: 9am to 3.30pm