Guildford Community Lottery supporter wins £2,000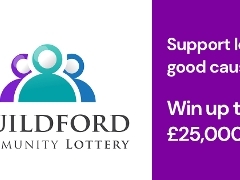 A supporter of Guildford charity Challengers has won £2,000 after playing our lottery in January.
Our Guildford Community Lottery has helped good causes such as local charities, clubs, and voluntary organisations by connecting them with their communities to raise money. The lottery has raised more than £150,000 for over 130 local good causes since it was set up in 2018.
Deputy Leader of the Council and Lead Cllr for Community, Cllr Julia McShane, said:
"Congratulations to our lottery winner. Our winner chose Challengers as their good cause when purchasing their ticket. Challengers is a charity that provides a fun environment for disabled children and young people across the South East. Anyone can support Challengers or other good causes when they play Guildford Community Lottery."
It is easy to take part in the Guildford Community Lottery. Tickets costs £1 and the chosen good cause receives 50% of each ticket bought directly from their page.
A further 10% of each ticket goes to Guildford Philanthropy, a charitable fund set up by us in 2014 to transform the lives of less fortunate members of the community.
There are weekly cash prizes to be won, up to a £25,000 jackpot as well as national prizes throughout the year. The Guildford Community Lottery is a fun way to help your local community.
"There are lots more chances to win. Cllr Julia McShane continued: "I hope that many of our residents will buy a ticket and support the local community by playing the lottery. Together we can have a bigger impact.
"Our charitable fund, Guildford Philanthropy benefits from the Guildford Community Lottery. In December, it celebrated the milestone of raising an amazing £1million since it started in 2014. Guildford Philanthropy helps transform the lives of less advantaged members of the community.
"Last year we launched our new crowdfunding platform, Crowdfund Guildford in partnership with Spacehive. We set up the £100,000 Guildford Community Fund, available through Crowdfund Guildford, so we can support local projects ourselves. From March organisations and individuals will be able to pledge money to the projects they want to support."
To support a local good cause and play the lottery go to www.guildfordlottery.org or call 01483 338885. Good causes not only benefit by receiving 50% of ticket sales from their page, but they also receive a host of bespoke marketing materials and support as well as their own Guildford Community Lottery web page.
Sign up at any time for free.
Published on: 22 February 2022