Our lottery has had another £2,000 win!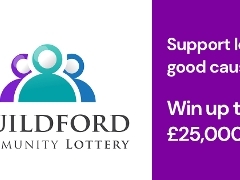 A supporter of Guildford charity Cherry Trees has won £2,000 after playing our lottery over the weekend.
Our Guildford Community Lottery has helped good causes such as local charities, clubs, and voluntary organisations by connecting them with their communities to raise money. The lottery has raised more than £150,000 for over 130 local good causes since it was set up in 2018.
Deputy Leader of the Council and Lead Cllr for Community, Cllr Julia McShane, said:
"Congratulations to our lottery winner. Our winner chose Cherry Trees as their good cause when purchasing their ticket. Cherry Trees is a charity providing exceptional home-from-home, specialist short-break respite visits for children and young adults aged 0-19 with a range of complex disabilities including learning, physical and sensory impairments. Anyone can support Cherry Trees or other good causes when they play Guildford Community Lottery."
The lottery winner, said:
"The win was rather a nice surprise, especially as I had only become aware of the lottery very recently and bought tickets. I've been happy to support good causes via the national lottery in the past, but never won anything. I guess the odds are far better with the Guildford Community Lottery!
"For me it isn't really about the winning, though I'm not complaining! Buying lottery tickets from organisations such as the Guildford Community Lottery is just another way of providing much needed support to the many organisations out there that may not be able to function otherwise.
"I retired a year ago and as is often the case, I wanted to offer up my time and energy to support a local charity. I chose Cherry Trees because they are an excellent charitable organisation providing a much-needed service to the community and they are also very local to me. The lottery seemed like a good way to provide further support."
It is easy to take part in the Guildford Community Lottery. Tickets costs £1 and the chosen good cause receives 50% of each ticket bought directly from their page.
A further 10% of each ticket goes to Guildford Philanthropy, a charitable fund set up by us in 2014 to transform the lives of less fortunate members of the community.
There are weekly cash prizes to be won, up to a £25,000 jackpot as well as national prizes throughout the year. The Guildford Community Lottery is a fun way to help your local community.
"There are lots more chances to win." Cllr Julia McShane continued: "I hope that many of our residents will buy a ticket and support the local community by playing the lottery. Together we can have a bigger impact. "
To support a local good cause and play the lottery Visit Guildford Community Lottery website or call 01483 338885. Good causes not only benefit by receiving 50% of ticket sales from their page, but they also receive a host of bespoke marketing materials and support as well as their own Guildford Community Lottery web page.
Sign up at any time for free.
Published on: 24 March 2022