Thrive at The Hive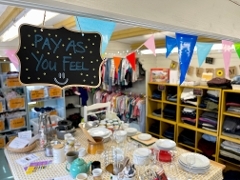 What you need to know
Thrive at the Hive launched in 2019. As a team we wanted to focus on reducing landfill of homeware and clothes. Thrive at the Hive is a space to access essential items.
We stock:
clothing from new-born to seniors
kitchen and homeware items
shoes for all sizes
toys
children's books and;
some essential larger items such as buggies
Everything is donated to us by the community. We ensure the quality and cleanliness is of a high standard.
Everything is available on a pay-as-you-feel basis. This means you can give as much or as little as you like for your items. All money donations go back into our community projects.
Opening times
You can visit us on a drop in basis at Thrive on:
Monday - Thursday: 9am - 4pm
Friday: 9am - 3.30pm
Donating items to us
To donate items for Thrive at The Hive you must contact the Community Wellbeing Team first. We only accept items from our donation shout-outs that are posted on our Facebook page (opens new window) .
Do not drop-off donations without an appointment or include any items that we do not need.
If you cannot get to us
If you cannot get to us but need items, request a bundle and we will deliver it to your home. We will need to know:
your address
items needed
any relevant sizing or age categories
Volunteer for us
We have volunteering opportunities at Thrive at The Hive. If you are interested in volunteering, get in touch via the contact details below.
Contact us
Telephone: 01483 444150
Email Address: community.wellbeing@guildford.gov.uk