Community transport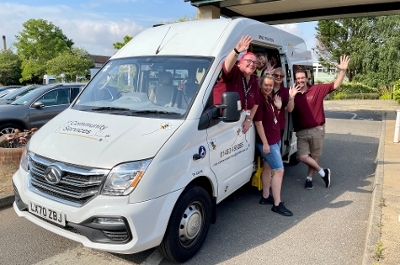 What you need to know
The Guildford Community Transport service provides regular transport for eligible residents of the borough. The service helps residents to access a range of activities and services including:
transport to The Activity Hub based at The Hive
dial a ride including door to store shopping trips
voluntary senior activities
social clubs and social trips
visiting friends and family
hospital and other medical appointments
The aim of the service is to promote the independence of residents. It also aims to reduce social exclusion if residents cannot access public transport.
This is a door-to-door service. The service is available to any resident of the borough that meets any of the following criteria:
people of any age with a physical disability or mobility problem
people of any age suffering with short-term or long-term ill health
people of any age with learning difficulties
people of any age with mental health issues
Operating times
The team at Guildford Community Transport operates Monday to Thursday 9:00am-4.30pm and Fridays 9:00am - 4:00pm. We have fully accessible vehicles to assist passengers.
Registering for transport
You will need to register for membership with our service to book transport.
The membership fee is £13.90 annually.
To register or enquire, contact us on 01483 458055 or email info.communityservices@guildford.gov.uk.