Pledging up to £50,000 for local community projects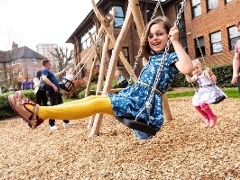 Project creators have been drumming up support from their communities and we have responded by pledging over £4,000 so far to boost projects towards their crowdfunding targets.
An eco-friendly reusable glass scheme, a jubilee street party and a charity concert are among the first projects to receive our pledges.
The projects are all crowdfunding as part of Crowdfund Guildford. We launched Crowdfund Guildford in November 2021, in partnership with crowdfunding platform Spacehive. It will fund local projects that support Guildford's communities. We are providing up to £50,000 each year for the first two years through our Guildford Community Fund.
Leader of the Council, Cllr Joss Bigmore, said: "As part of this initiative, residents and groups with an idea to improve our borough have the opportunity to get money via Crowdfund Guildford.
"We set up the £100,000 Guildford Community Fund with up to £5,000 available per project so we can support local projects through the Crowdfund Guildford platform. We have already pledged funding to three projects and hope to commit to others soon when they show support from their local communities."
Deputy Leader and Lead Councillor for Communities and Housing, Cllr Julia McShane, added: "The last two years have been very tough for our communities which is why it is so inspirational to see this wide range of projects begin to use Crowdfund Guildford to fundraise.
"I'm calling on everyone to join us in offering support to project ideas. Local businesses and organisations can all get involved. Together we can increase the number of successful local projects."
Merrow Common Jubilee Street Party recently received our pledge of £569, after raising over 20% of its crowdfunding target.
Andrew Roberton, Merrow Common Jubilee street party organiser, said: "Thank you to the Guildford Community Fund for their generous pledge towards the costs of our Merrow Common Jubilee Street Party. This pledge means we can now put all our focus into executing our plans for a fantastic community event to celebrate the Queen's 70-year reign.
"Bringing together the wider Merrow Common residents and their friends, in the beautiful surroundings of Aspen Close Woodland, will be a wonderful day to remember. We also hope to use the Street Party to raise further funds to support the vital charity work of Beating Hearts Merrow, who are focused on delivering lifesaving automated external defibrillator devices into public spaces in Merrow."
The Burpham Wellfest 2022 project has receive a conditional pledge. We will pledge once they reach either 20 backers or 20% of their funding.
Ruth, from Burpham Wellbeing, said: "Last year the support from Guildford Borough Council was fundamental in making Burpham Wellfest happen and this year, all being well, that support will be more than before which will enable us to deliver an even better event for the community. I am grateful for the support they've pledged and hope the Spacehive platform will garner the remainder of the support we need to make Burpham Wellfest a reality."
To learn more about projects currently crowdfunding, visit our Crowdfund Guildford website.
The next round will open in June 2022. We are encouraging anyone with exciting ideas for Guildford to come forward by completing the expression of interest form.