Honorary Freeman Andrew Hodges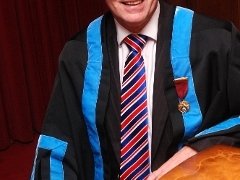 It is with great sadness that we confirm that former Mayor and Honorary Freeman Andrew Hodges passed away suddenly on 12 April.
Andrew was first elected to the Council in 1976 representing the Christchurch ward. He served on all the main committees of the Council. He was Mayor in 1987-88, Leader of the Council from 2003 to 2010 and Deputy Leader and Lead Councillor for Finance and Resources in 2010-11. He made an outstanding contribution to the cultural life of Guildford.
Current Mayor of Guildford, Councillor Marsha J Moseley, said: "I first met Andrew when I was elected to Guildford Borough Council in 1999. He was a fantastic mentor to me and all the other newly elected councillors. It was clear that Andrew was a man of great integrity and he had many other outstanding talents. He cared passionately about all the people who lived within Guildford Borough. This is reflected in both his long and distinguished service with the Council and also with his selfless commitment to the many voluntary and charitable organisations with which he was involved in. In 2011, Andrew was bestowed with the rare but well-deserved title Honorary Freeman of the borough, in recognition of his exceptional service to Guildford borough; as Councillor, Mayor, and as Leader of the Council.
"Today, I and the rest of Guildford now mourns the loss of a true friend; there is no doubt that Andrew will be greatly missed by everyone who knew him."
Councillor Joss Bigmore, Leader of the Council, said: "Andrew Hodges did so much for the people of our borough. He served as a school governor, supported local charities, and championed older people and sports. Well-respected and much loved, he will be remembered for his fantastic contribution to the borough. Rest in peace Andrew, you will never be forgotten."
Leader of the Conservative Group, Councillor Paul Spooner, added: "Andrew's selfless commitment to achieve the best for his fellow residents in Guildford was an example to us all. He was a mentor to new and experienced Councillors and his focus on community enabled the council to deliver two major leisure venues, the Spectrum and G Live. He was a very special person" "
In his earlier years on the Council, Andrew was Vice-Chairman of the former Personal Services Committee from 1977 to 1983 and became Chairman of that Committee in 1983 to1987. He was also Chairman of the successor Housing and Health Committee from 1993 to 1995. He was Vice-Chairman of the former Arts and Recreation Committee between 1990 and 1992.
As a Councillor, Andrew was closely associated with many organisations including:
Guildford Youth and Community Centre

Governor of George Abbot School

Guildford Old People's Welfare Council

Guildford Area Unemployed People's Centre

Guildford Adventurers/Disability Challengers

South East Regional Council for Sport and Recreation

Surrey County Playing Fields Association

Guildford Area Community Care

Yvonne Arnaud Theatre Management Board

Surrey Local Government Association

South East England Regional Assembly.
In recent years, he served many other voluntary and charitable causes. He was also chairman of the Board of Directors of Guildford Borough Council Holdings Limited. Details of the arrangements for Andrew's funeral will be announced shortly.