Win big and raise money for good causes with the Guildford Community Lottery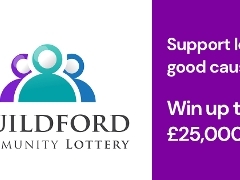 Over £45,300 has been won and £187,440 raised for local good causes since the Guildford Community Lottery launched, just over four years ago. That's £11,000 won each year!
Charities, sports clubs, dance schools, community centres and other good causes are among those benefiting each week from the Guildford Community Lottery.
Deputy Leader of the Council and Lead Cllr for Community, Cllr Julia McShane, said: "Guildford Community Lottery is a weekly lottery that raises money for good causes in Guildford.
"It is easy to take part. Tickets cost £1 and the good cause chosen by the person playing receives 50% of each ticket bought directly from their page.
"There are weekly cash prizes to be won as well as national prizes throughout the year. A weekly draw takes place every Saturday night. Match all six numbers and you win the jackpot of £25,000."
As well as 50% of each ticket going to good causes, a further 10% of each ticket goes to Guildford Philanthropy, a charitable fund set up by us in 2014 to transform the lives of less fortunate members of the community.
Chairman of Guildford Philanthropy, Peter Cluff said: "The Guildford Community Lottery has been a wonderful fund-raiser for many local good causes since its launch. We at Guildford Philanthropy are very grateful for the additional funds it has provided us to give opportunity and tackle need across the borough."
The Guildford Community Lottery is a fun way to help your local community. Play the lottery, support Guildford - it's that simple!
To support a local good cause and play the lottery visit the Guildford Community Lottery website.
Are you a good cause looking to raise funds online? You can start raising funds for your cause with Guildford Community Lottery. It's a no risk option because it's free to set up. We take a small percentage from every ticket sold to cover the costs of running the lottery. We also provide regular marketing materials to promote your lottery. With just 50 tickets a week you can raise £1,300 every year. Start raising money by visiting the Guildford Community Lottery website.