£5.5 million approved for next stage of Midleton Enterprise Park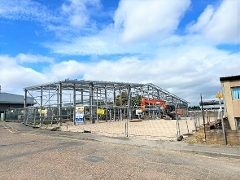 The final phase of the Midleton Enterprise Park is underway. Last night the Executive approved £5.5 million to complete the work on the redeveloped industrial estate.
This phase consists of 20 industrial units. They range in size from 50 to 75 square metres. They will be available from May 2023.
The completed phases of the Midleton Enterprise Park have been a great success. New and existing businesses on the estate are benefitting. The value of our properties has also increased. We are now developing a growth strategy for Slyfield, Lysons and Woodbridge Meadows.
Leader of the Council, Cllr Joss Bigmore, explains:
"We want to offer businesses the right premises which attract inward investment to help our borough thrive.
These new smaller units on the Midleton Enterprise Park will be attractive to small businesses and start-ups. We're installing solar panels and electric vehicle charging points. This will help meet our pledge to be a net-zero carbon borough by 2030.
Our aim is to invest in and improve our existing investment portfolio. To do this, we've agreed to increase how much we spend on our industrial estates. These improvements will generate around £830,000 extra annual rental income. This will help us reduce our budget gap of about £6 million over the next five years.
"Slyfield, Lysons and Woodbridge Meadows need updating. Some of the buildings are reaching the end of their economic life. From March 2023 some buildings won't meet Minimum Energy Efficiency Standards (MEES).
"To future proof our portfolio we aim to fund a development strategy. It will identify land for redevelopment and property to buy and sell. This work will support an overarching strategy to help our industrial portfolio grow.
"The project will have two phases. The first phase is a high-level status update report. It includes all issues, risks, constraints, dependencies, and opportunities. The second phase is a vision and future growth strategy. This explains the development programme, timelines, and costs.
"This report is key to the planned regeneration of our industrial estates. It will help to improve opportunities for business in our borough now and for the future."
Published on: 26 August 2022