Household Support Fund still open for residents to get help with the cost of living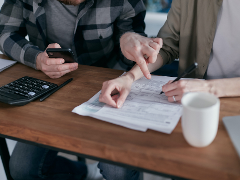 Grants are still available to help vulnerable families and individuals. These funds are available to people who are struggling with the cost of living in the borough.
The Department of Work and Pensions has extended the Household Support Fund to help vulnerable households with rising costs.
The scheme runs until 30 September 2022 or until all funds have been allocated.
Leader of the Council, Cllr Joss Bigmore, said:
"It's reassuring that we have this money available to help our vulnerable residents. We know how difficult rising costs can be. Residents can submit one application per household. A grant of up to £300 per household is available.
"To apply you must be over 16, live in Guildford, and be without enough resources to meet your short-term needs.
"If your application is successful, we will make a payment straight into your bank account. We aim to get the funds to you as soon as possible to meet the agreed needs of the household."
Deputy Leader of the Council and Lead Councillor for Communities and Housing, Julia McShane, said:
"There is over a month left of the extended Household Support Fund scheme. This gives plenty of time for people who are struggling with their finances to seek our support. We want as many residents as possible, who need this support, to get it. The cost of living is having a huge impact on our communities. This money is to help with food, cost of fuel and other essential items.
"If you're worried and need help, please fill in an application form and email it with the requested documents to the to the Community Wellbeing team. Please give as much detail as possible to help us assess your household needs and priorities.
"We are prioritising households with children and the elderly, but this money is for anybody who needs it. You can apply on behalf of yourself, or on behalf of somebody else. We treat everyone who applies to this fund in the same way. We always make sure we are making the best use of the money we have available.
"Thank you to our fantastic Community Services Team who do an amazing job supporting our communities."
Find out more about the Household Support Fund
Published on: 30 August 2022