How to host your own Coronation event in Guildford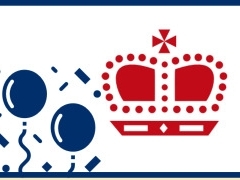 You can apply to close a road for all sorts of things. Monday 8 May is a special bank holiday commissioned by The King to celebrate volunteering.
To mark the Coronation, any road closure application over the bank holiday from Friday 5 May to Monday 8 May will be free.
If you would like to hold a street party or celebration, you must apply by the deadline of 3 April 2023. This is to make sure your event will be safe and your application processed in time.
What you need to know
We have a few simple steps to help organise your day:
let everyone on the road know what your plans are
provide a clear map or plan showing your road closure and the diversion of traffic
you'll be responsible for providing, putting up and removing all signage
you'll also need to provide an event management plan. This will cover:

when the event is taking place
contact numbers for the organiser/s
a timeline for the day and;
how the area will be set up

consider getting Public Liability Insurance cover
Events you can get involved in
The Coronation Big Lunch
The Coronation Big Lunch aims to bring neighbours together to celebrate as a community.
Sign up for The Coronation Big Lunch
The Big Help Out
The Big Help Out aims to help many different causes and create a volunteering legacy that reflects His Majesty's service.
Further details of events planned across the borough over the Coronation weekend and funding available for communities will be announced soon.
King's Coronation community grants
Aspire community grants are launching a special coronation grant.
The grant will help you to celebrate the King's Coronation.
This could be:
a commemorative event
picnic
street party
community project that marks the historic event
A grant of up to £500 is available for activities held from April to September 2023.
To apply, complete the King's Coronation community grant application form (Word doc) [160KB] .
Completed applications should be returned to aspiregrants@guildford.gov.uk.