Economic Development strategy approved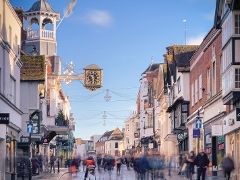 Our new Economic Development Strategy (EDS) and Action Plan from 2023 to 2040 has been agreed.
This outlines a new vision and our priorities to bring Guildford's economy back to life.
The EDS and Action Plan took over six months to achieve. This included research and consultation, and was informed by evidence looking at the borough's economy.
The draft Action Plan explains actions we, and our partners, can take to support the borough's economy. 
Lead Councillor for Economic Development, Cllr John Redpath said: "This research has been used to shape a new vision for the local economy. It is designed to make Guildford the beating heart of Surrey's economy again. We want to be known for our modern, green economy."
To achieve this vision, the EDS describes six broad themes to focus on:
Productivity: More enterprise and innovation
Property: Meeting business and worker needs
People: Connecting people with opportunity
Provision: Upgrading our physical and digital infrastructure
Place: Transforming our town centre offer; and
Planet: limiting the impact of economic activity on the environment.
We understand how important key Council projects are. These include:
Shaping Guildford's Future
Town Centre Masterplan
Weyside Urban Village
our climate change programme
sustainable travel projects
We will hold more consultations about the Action Plan in the future.
View the Council meeting that took place on Wednesday 22 February