Matisse exhibition proves a great success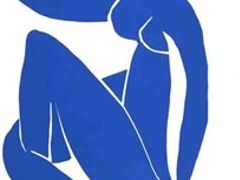 There's still time to visit. The exhibition runs until 25 March 2023.
Come along and discover the 35 posthumous prints of the cut-outs produced by Henri Matisse in the last four years of his life, when confined to bed by ill health. It includes many of his iconic images, such as The Snail and the Blue Nudes.
Plan your visit
Matisse: drawing with scissors is on display at Guildford House Gallery, 155 High Street, Guildford, GU1 3AJ. Admission is free.
The gallery is open Tuesday to Saturday 10am to 4.30pm (last entry 4pm).
Find more about the exhibition Matisse: drawing with scissors.
Visits for schools
Schools should call 01483 444751 to book their free visit. A teacher's pack is available for school bookings. Aimed at Key Stage 3 students and above, the pack can be adapted to suit students of any age.
Activity sheets are available for Key Stage 2 students, younger visitors and families.
Matisse's work has inspired the creation of artwork by members of charities Headway Surrey and Halow Project. Their Collages and Cut-outs exhibition is also on display in the Garden Room at Guildford House Gallery.