Help create memories in celebration of the Coronation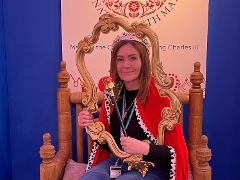 Our Heritage team are running a 'Coronation collecting project'.
If you live in or around Guildford can you help build a 'collective memory of celebration'?
The Heritage team are looking for donations such as:
coronation themed tableware (unused)
party decorations
photographs from events such as street parties
leaflets/posters advertising Coronation events
Donations received will be displayed to remind future generations about the coronation of King Charles III. These items will be added to the permanent collection of memorabilia in the Guildford museum.
If you would like to donate to this 'Coronation collecting project' please get in touch with HeritageServices@guildford.gov.uk