The Big Draw Festival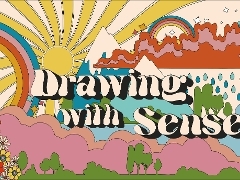 What you need to know
The Big Draw 2023 is coming to Guildford this October. The festival is a worldwide celebration of drawing and art.
We're running an art themed competition open to all our residents. There are prizes for the best submissions. This year's theme is #DrawingWithSenses. We're encouraging you to use your senses and create artwork using:
touch
sight
sound
taste
smell
to produce something, you love or enjoy.
This could be:
a finger painting
a sensory collage for touch
a video of a beautiful place for sight
a sound recording of music or nature
a photo of something you've baked or tasted
Our winner will be chosen based on:
creativity
relevance to the theme
Watch our YouTube video to find out more. (opens new window)
How to enter
The competition opens on the 1 October 2023. We must receive your entry by 4pm on 31 October 2023. You must live in the Guildford borough to enter and you can enter one submission.
You must submit your entry by:
E-mail
Email your submission to: community.wellbeing@guildford.gov.uk
Social media
You can tag us on Facebook or Instagram with your photo and video creations. Use @GBCCommunityWellbeing
Social media submissions must follow the terms and conditions of the platform used. We do not take responsibility for the sharing or removal of any photos, or videos uploaded.
In person
Visit a submission station. Find your nearest station below:
Ash library, Ash St, Ash, Aldershot GU12 6LF
Guildford Library, 77 North Street, Guildford, GU1 4AL
Horsley Library, Parade Court, Ockham Rd S, East Horsley, KT24 6QR
Watts Gallery, Down Ln, Guildford GU3 1DQ
The Hive, Park Barn Drive, Guildford, GU2 8EN
Guildford Museum, Castle Arch, Quarry St, Guildford GU1 3SX
Shere Museum, Gomshall Ln, Shere,GU5 9HE
Guildford Institute, Ward St, Guildford GU1 4LH
Ash Vale Chapel, 33 Wharf Road, Ash Vale, GU12 5AY
Managing your data
All entries will adhere to our GDPR policy. We'll delete all your personal information from our systems once the competition has ended.
Information provided for the Big Draw Competition will not be shared with third parties.