Get your prescription for a Dose of Nature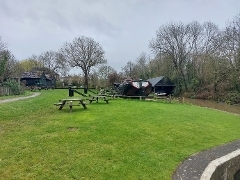 Mental health charity Dose of Nature has been based at Dapdune Wharf for a year. As they grow in popularity and receive more referrals, we talk to Clinical Lead Dr Georgina Gould. We want to find out more about the charity and the benefits of spending time in nature. 
How did it all start? 
Working in mental health but frustrated by the restrictions, counselling psychologist Dr Alison Greenwood founded Dose of Nature in 2019. "She wanted to help more people connect with nature" Georgina explains.  
Initially in London, Surrey County Council soon heard about the charity and got in touch. "They were keen to get more green initiatives in the area and had won a bid to become a 'test and learn' site. This means that they set up services and pass their learning on to other councils. 
"There were lots of great projects happening, but nothing long-term, or with psychological underpinning." She continues. "So, it was then that they approached us to set up Dose of Nature in Guildford, to help those most in need in the county." She continues. 
And how's it going so far? 
"Really well, Surrey has been very welcoming. We now have 19 GPs referring to us from across North and East Guildford as well as East Waverley. We have over 50 referrals and are growing superb links with different partners. We offer wellbeing workshops for diverse populations. We have already run workshops for:  
staff at a local domestic abuse charity 
a cancer charity and 
a local doctors' surgery" 
And you have excellent links with the National Trust? 
"We are so blessed to have the support of the National Trust. We are very grateful for how they have welcomed us to Dapdune Wharf. It's something of a green sanctuary for our clients. We are lucky that our ethos fits perfectly with their goal to enhance access to green sites. They want to encourage diversity and make their spaces more inviting to everyone." 
What drew you to the charity personally? 
"I joined the team in 2020. I had just spent maternity leave in lockdown and was an isolated, new mother. Nature was a lifeline for me. 
"I have a background in Child and Adolescent Mental Health Services (CAMS). I realised these positive, calm feelings associated with being outside would be the same for many of my patients. 
"There is a place in patient care for medication and conventional therapy. But, I believe the effects are limited. In the NHS we also see long waiting lists, lots of paperwork and boxes to tick. This stops practitioners seeing as many patients as they would like." 
She confirms that: "being out in nature is scientifically proven to improve mental health and wellbeing. Our work is evidence-based and it is overseen by qualified psychologists." 
So, what's the relationship between nature and mental wellbeing? 
"I'm so passionate about spreading the news of nature therapy" Georgina enthuses. "Research into the benefits have increased rapidly in recent years. 
"Since the industrial revolution we have become more and more disconnected from nature. Digital technology and social media enhance this feeling. It's often just one person, four walls and a screen. 
"Roger Ulrich carried out the earliest research study to discover the healing benefits of nature. He carried out the 'Hospital Window Study'. He found out, by chance, that patients in a room with a view of nature got discharged from hospital up to three days earlier than those with a view of a brick wall. They also asked for less painkillers and had less complaints. 
"When outside, your body goes into a calmer, more relaxed state. Blood pressure, heart rate and stress hormones all decrease. 
"There are six active ingredients in nature that help us feel better: 
soil bacteria (linked to improved cognition) 
fractal patterns (that help us to feel calmer and less stressed) 
sunlight for Vitamin D, serotonin, and ultraviolent light 
Phytoncides (plant secretions that boost the immune system ) 
nature sounds such as bird song, water and wind
the feeling of Awe we have - that we are so small compared to the world
Tell me about a typical referral 
"If you get referred by a GP, you will first see a psychologist for an initial assessment. They will seek to understand what you are struggling with and where you need help. They will also note any barriers you may have to progress. For example, important relationships or behavioural patterns that keep a problem going. 
We often find a client learns a lot about themselves in these sessions" she smiles. 
"Following this, we will match each client with a Dose of Nature Guide. They are not therapists, but volunteers. We provide full training for them on: 
listening
safeguarding and 
confidentiality 
We also provide ongoing supervision and support, and lots of optional training opportunities. 
"We equip volunteers with a toolbox of ways to engage with nature. From something as simple as opening a window, to 'tree-laxation' and nature journaling. So often we are outside but not concentrating on the experience. We may be on the phone or stressed about an issue at work. 
"Over the course of eight weeks the pair will meet for an hour a week and explore a green space. it will be one that the client and volunteer choose together. The volunteer will support the client to immerse themselves in nature." 
"At the end of the course, the client has a review with their assessing psychologist to discuss progress and consider next steps. It's key to Dose of Nature that clients can stay in the Dose of Nature community, by attending groups and social events, for as long as they wish. They are not left alone at the end, like some therapies." 
She leaves us with sound advice: "Just like taking your vitamins, a daily Dose of Nature should be included as part of a healthy lifestyle." 
Get involved with Dose of Nature 
To be referred to the care of  Dose of Nature (opens new window) talk to your GP. If you would like to volunteer, contact info@guildforddoseofnature.org 
Community wellbeing in Guildford 
Dose of Nature is one of so many wonderful local organisations that help strengthen our community and improve the wellbeing of residents.