#ChooseGuildford this Autumn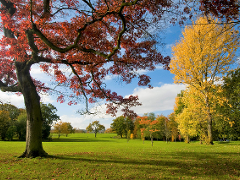 Join a Playrangers session 
Playrangers is an exciting project which encourages children to play outdoors. Free sessions are held after school in six locations around Guildford. All children are welcome to join. The Playrangers are qualified and experienced play workers. They run play sessions based on using the natural environment as well as child-led play. 
They are a great way for children and young people to  
get outside 
be active 
make new friends  
learn new skills 
Sessions are aimed at eight to twelve year olds, but younger children are welcome if accompanied by an adult. Autumn sessions start in Pirbright on Monday 11 September 2023. Find out how to join the Playrangers on their next adventure!  
Enter an art competition, or visit the Guildford House Open Exhibition 
Guildford House Gallery and art consultants, Parker Harris are launching a new competition and exhibition. The Guildford House Open competition will highlight outstanding artistic talent and showcase the best contemporary art from across the country. It's time to sharpen your pencils and wet your brushes to be in with a chance to win £1,000 and your own art exhibition! Budding artists wishing to enter the competition have until 5pm on Tuesday 3 October to submit their entry. Art lovers who would like to get involved can view 100 shortlisted entries, on display from Saturday 25 November at the Guildford House Gallery. 
You can also check out more events at visit Guildford (opens new window) and Experience Guildford (opens new window) .