Plans for North Street approved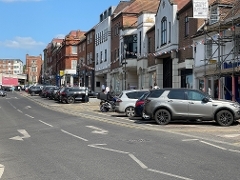 Our planning committee met on Wednesday 11 October 2023, in the council chambers at Millmead House. The meeting was held to consider the planning application for the land bounded by The Friary Centre Bus Station, North Street and Leapale Road Guildford.
The committee resolved to approve the planning application for the town centre area known as `The Friary Quarter'. This was subject to both the conditions outlined in the report and those on the Late Sheet along with the completion of a legal agreement.
The Friary Quarter will contain a mix of 471 apartments, as well as new commercial spaces for restaurants, shops and a range of other uses. The approved scheme also includes the refurbishment of Guildford bus station, the part pedestrianisation of North Street, as well as the provision of new areas of open space for residents and visitors to enjoy.
View the full report, late sheet and presentation (opens new window)