Need funds for your Platinum Jubilee Celebrations?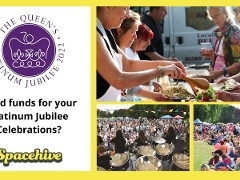 If you're planning a street party, a community event or any sort of get-together and you need extra money to make it happen, local groups can crowdfund celebrations with Crowdfund Guildford. Submit your Jubilee projects by 1 March 2022.
Leader of the Council, Cllr Joss Bigmore, said: "We want everyone to have a great time celebrating Queen Elizabeth's Jubilee. From street parties to picnics and barbeques, if you are a community group and you need extra cash for your celebrations, then Crowdfund Guildford could be for you.
"What's more, we will be assessing pitches to Crowdfund Guildford for Jubilee projects and you could receive a pledge from us towards your campaign. We have set up the £100,000 Guildford Community Fund, so we can support local projects through the Crowdfund Guildford platform. Crowdfund so you can have a Jubilee weekend to remember!"
We launched Crowdfund Guildford in November 2021, in partnership with crowdfunding platform Spacehive.
We recommend you set a target of no more than £2,000 so you have enough time to get the funds before the bank holiday weekend. After you have submitted your Jubilee project for verification, set your campaign to run until the end of April (or sooner).
Once you have successfully crowdfunded and hit your target, the funds will be transferred to you by early May, giving you time to purchase all the items your need for your Platinum Jubilee Celebrations.
If you need a road closure for your Jubilee event, we are waiving the fee for applications.
If you're planning something else for the Jubilee this year that needs funding but won't take place on the bank holiday weekend (such as a community mosaic), simply fill out the form and Spacehive can advise on the easiest way to crowdfund it.
View Spacehive's guide to Platform Jubilee Crowdfunding. Find out more about Crowdfund Guildford.
Published on: 25 February 2022