Burpham Neighbourhood Area and Forum Consultation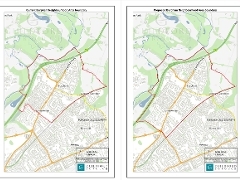 Following ward boundary changes in May this year, we've received an application to change the Burpham Neighbourhood Area. The proposed change would see the neighbourhood area boundary enlarged, so that it matches the new ward boundary for Burpham.
The application also asks us to designate a new Burpham Neighbourhood Forum for the modified Neighbourhood Area.
Tell us what you think
We're inviting residents to have their say about the proposed boundary changes and forum. The consultation begins at midday on 30 August 2023. It will run for six weeks until midday on 12 October 2023.
You can make your comments online through the consultation web page (opens new window) or by emailing planningpolicy@guildford.gov.uk. You can also write to Planning Policy at our Millmead offices in Guildford.
The comments submitted will help us decide whether to put the draft proposals in place.
History
The Burpham Neighbourhood Area and the Burpham Neighbourhood Forum were first designated in 2013. The forum produced the Burpham Neighbourhood Plan, which came into force in 2016. Forum designations expire after five years, so this one was renewed in 2018. It lasted until April 2023.
The proposed changes would not affect the current Neighbourhood Plan for Burpham until it is reviewed or replaced.
View the applications
You can view the applications on our website. (opens new window)
You can view printed copies of the applications in reception at our offices in Guildford:
Millmead House, Millmead, Guildford, Surrey GU2 4BB
Our reception opening hours are:
8.30am to 5pm Monday to Thursday
8.30am to 4.30pm Friday