You are here:

Guildford Borough's Big Draw 2019
Guildford Borough's Big Draw 2019
We are excited to be hosting a programme of 10 free creative workshops for all the family, to celebrate the national Big Draw Festival. Run in partnership with local arts practitioners and venues, these workshops are designed to let you explore new and creative ideas.

Taking the national Big Draw theme 'drawn to life' as a starting point, the event artists will provide a range of free, accessible, high quality and creative activities across the borough.
The festival is all about letting loose, embracing happy accidents, discovery, and most importantly having fun through drawing in all its forms!
Find out about all of our 2019 workshops in our
events programme [3.94MB] or search for events on the national Big Draw website.
Watch our short video on the Big Draw 2017 in Guildford.
You can also see some inspiring Big Draw videos on the The Big Draw website.
Feedback from Big Draw events
"Really enjoyed creating things with my granddaughter."
"Gives people a chance to try new things and release their imagination."
"Brilliant! Love the way everyone was included and involved."
"Nice to see it's for adults as well as children."
"Great fun! Love the opportunity to try something I've never done before."
"Great, more please!"
"Looking forward to the next one!"
Past participants, Guildford Borough's Big Draw.
How to sign up
To find out more about future Big Draw events, join the Big Draw mailing list by emailing: artsdevelopment@guildford.gov.uk.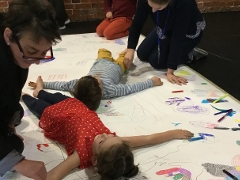 Related pages
Translate
Twitter feed
Follow
Links