You are here:

Guildford Farmers' Market
Guildford Farmers' Market
Guildford Farmer's Market is held on the High Street on the first Tuesday of every month from 10:30am to 3:30pm except January. There's an additional Christmas market in December. Both December Markets will run from 9:30am to 4pm. The market offers a variety of fresh local produce.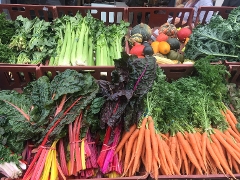 We have over 50 producers offering a variety of fresh local produce at each market.
We keep a balance between types of stalls to promote customer choice.
As a National Farmers' Retail and Markets Association (FARMA) accredited market, we have strict rules on what products are sold and who should sell.
The producer must produce the goods themselves, using locally sourced ingredients.
The producer must be based in our catchment area of within 50 mile radius of Guildford. Occasionally we will take a producer outside the catchment, but only if it's a product that can't be sourced within the radius.
Priority is given to primary producers, such as farmers, fishermen, growers, cheese-makers and brewers. Secondary producers, such as bakers, preserve makers, and a very limited number of craft, must commit to using a defined percentage of locally sourced ingredients in their products.
All the products sold must be reared, grown, caught, brewed, pickled, baked, smoked or processed by the stall holder. Generally, we do not permit the sale of bought in goods.
For more information on prices, availability and eligibility for a pitch, email: Farmersmarket@guildford.gov.uk.
Upcoming market
The next market is going to be held on Tuesday 4 December.
Please note these producers may vary from the list below.
Producers


Charities
Market dates for 2018
Tuesday 4 December

Tuesday 18 December (additional Christmas market)
Any queries regarding the market or further information, please contact:
Farmers' Market Co-ordinator
Economic Development Service
Guildford Borough Council
Millmead House
Millmead
Guildford
Surrey
GU2 4BB
Telephone: 01483 444401
Translate
Twitter feed
Follow